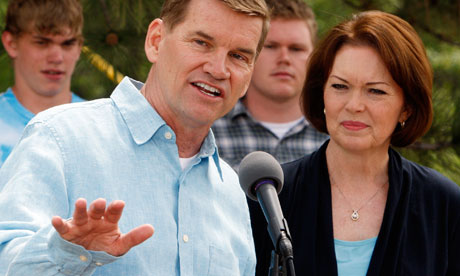 By Chaplain Mike
WARNING: As you read this update, the sound you will hear is the voice of cynicism. With a bit of sarcasm thrown in. As well as a healthy dose of antipathy. If I didn't think the evidence deserves this kind of response, I would stay quiet. But this is bad news, a sorry caricature of what church should be. It deserves pointed ridicule. Sorry if you are offended. I'll gladly take the flak.
From the Colorado Springs Gazette:

It was only supposed to be a launch party and focus meeting of St. James Church in Colorado Springs. But something changed since Wednesday's press conference that officially announced the start of St. James.

On Sunday Ted Haggard presided over the first St. James service in his barn next to his home on Old Ranch Road.
So writes Mark Barna, the only reporter among the 160 or so who attended the "launch party," uh . . . first church service AND launch party at Pastor Ted's house. Oh yeah, the film crew was there too. Shouldn't leave them out. Because this is about a movement of the Spirit. And everyone knows his favorite tool is the media and its marketing prowess.
"This is Easter morning for me," the comeback "pastor" proclaimed. Excuse me, but I thought Easter morning was reserved for Someone Else. After the service, he continued, ""This was a resurrection party for me, I am out of the grave. And we are rolling." (Cue praise band playing "Up from the Grave He Arose".)
"I don't know if you heard about it, but I had a tough time 3 1/2 years ago," he continued, with a wink and smile. Cue audience laughter. This is how he summarizes what happened? I had a tough time? He can say that to elicit laughs? With his wife in the room? To the faces of former parishioners? Less than a mile from the church where he had resigned in disgrace?
Inviting people to enjoy the pool at the party following the service, Ted quipped, "But no skinny dipping," he said. "I've got a bad enough reputation. Keep your clothes on." Ah yes, nothing like the old pastoral scandal joke to bring the congregation together! Brother, that's fellowship.
During the service, a 31 year-old massage therapist (ironically, the profession of Haggard's gay prostitute friend) gave her testimony—"I believe in Ted," she proclaimed. Was there an altar call for others to do the same?
Two gay men who gave testimony were there because they had answered a Craigslist ad placed by Long Pond Media, the company filming a documentary about the new church. The company paid their way to get to the service. Nothing like the Spirit gathering God's people together, huh?
"I like Ted's church because it's open to everyone," one of them said after the service. Ah, there's the good ol' evangelical formula—"Ted's church."
And that's the bottom line, folks. It's Ted's church.
No thanks.
FOR FUTURE REFERENCE: I don't plan on following this very closely. It is definitely not good for my digestion, or my sanctification. Nor do I want to inflict this on you, my friends, any longer.