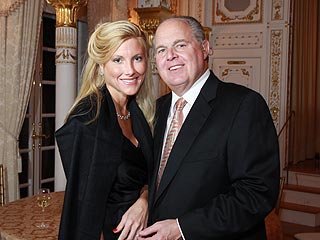 By Chaplain Mike
Just the facts…
Conservative talk radio host Rush Limbaugh, age 59, married Kathryn Rogers, 33, on June 5 in Palm Beach, Florida.
It is Limbaugh's fourth marriage, after three divorces.
Limbaugh's friend, Ken Hutcherson, a former NFL player, African-American, and outspoken "pro-family" pastor from Redmond, Washington, officiated.
When asked how he could perform the ceremony for someone divorced three times, Hutcherson replied, "The Buffalo Bills went to the Super Bowl and they lost a lot of times, but they never gave up. Rush Limbaugh never gave up on the institution of marriage."
The wedding singer? None other than Sir Elton John, gay pop singer, who was reportedly paid $1 million for his evening's work. That John would sing at the wedding of someone like Limbaugh has raised quite a stir in the gay community and blogosphere.
I thought I might want to say something about all of this.
But folks, to be honest, I got nothin'.
Cue "Twilight Zone" music.