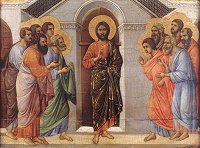 By Chaplain Mike
We are marking the Great Fifty Days of Easter with a series of devotional thoughts on the post-resurrection appearances of Jesus.
Today we look at the second narrative in Luke's story of Jesus' resurrection and appearances, from Luke 24:36-49 (NRSV).
Text
While they were talking about this, Jesus himself stood among them and said to them, 'Peace be with you.' They were startled and terrified, and thought that they were seeing a ghost. He said to them, 'Why are you frightened, and why do doubts arise in your hearts? Look at my hands and my feet; see that it is I myself. Touch me and see; for a ghost does not have flesh and bones as you see that I have.' And when he had said this, he showed them his hands and his feet. While in their joy they were disbelieving and still wondering, he said to them, 'Have you anything here to eat?' They gave him a piece of broiled fish, and he took it and ate in their presence.

Then he said to them, 'These are my words that I spoke to you while I was still with you—that everything written about me in the law of Moses, the prophets, and the psalms must be fulfilled.' Then he opened their minds to understand the scriptures, and he said to them, 'Thus it is written, that the Messiah is to suffer and to rise from the dead on the third day, and that repentance and forgiveness of sins is to be proclaimed in his name to all nations, beginning from Jerusalem. You are witnesses of these things. And see, I am sending upon you what my Father promised; so stay here in the city until you have been clothed with power from on high.'
Thoughts
Ever wondered why we have four Gospel accounts of the ministry, death, and resurrection of Jesus?
I'm sure I don't understand all the reasons, but I think it is clear that each Gospel was written for a purpose, to address needs in a specific community of Christians in the early days of the church. And if you look at each Gospel's design and stated purpose, you can understand something of why each Gospel writer narrated Jesus' story the way he did.
For example, John has a clear purpose statement in 20:30-31—"Now Jesus did many other signs in the presence of his disciples, which are not written in this book. But these are written so that you may come to believe that Jesus is the Messiah, the Son of God, and that through believing you may have life in his name." John wrote to encourage personal faith in Jesus the Messiah.
Matthew's purpose may be discerned in the way he organizes his Gospel—for example, collecting the teachings of Christ and presenting them in five discourses. He concludes by describing Jesus' final commission to his church: "And Jesus came and said to them, 'All authority in heaven and on earth has been given to me. Go therefore and make disciples of all nations, baptizing them in the name of the Father and of the Son and of the Holy Spirit, and teaching them to obey everything that I have commanded you. And remember, I am with you always, to the end of the age'" (Matt 28:18-20, NRSV). The emphasis is on teaching and making disciples. Matthew has been called the "catechetical" Gospel, a handbook for making and teaching disciples.
The Gospel of Mark is more subtle in communicating its purpose. Tradition has it that Mark recorded the story of Jesus from the Apostle Peter's perspective and that it was written to believers in Rome enduring severe persecution. Read through that lens, one notes recurring emphases on hardship and danger, fear, discipleship failure, and the necessity of carrying Jesus' cross. Mark wrote to encourage and challenge believers under pressure so that they might not deny Jesus in such settings (as Peter did).
Finally, right at the beginning of Luke's Gospel, the author tells us plainly what he intends:
Many have undertaken to draw up an account of the things that have been fulfilled among us, just as they were handed down to us by those who from the first were eyewitnesses and servants of the word. Therefore, since I myself have carefully investigated everything from the beginning, it seemed good also to me to write an orderly account for you, most excellent Theophilus, so that you may know the certainty of the things you have been taught.
Luke wrote his Gospel (and Acts) to a person (or group) he designates as "Theophilus" (lover of God). Whether this was an actual individual or a person or group using a pseudonym, the author researched and investigated the facts and testimony about Jesus, then put it together in an artful and cohesive book in order to help those who read it come to assurance of the truth about Jesus.
Assurance. Certainty. A confident faith. Maturity. A sense of standing on solid ground, rather than shifting, sinking sand. A positive trust in Jesus. Knowing for sure that he is who he said he is, and that he did what he said he was going to do.
In previous meditations, we have considered the first two stories in Luke's resurrection narratives. They fit together in a neat progression, culminating in the third story: today's text.
24:1-12. The story of the empty tomb portrays the disciples in a puzzled state, wondering what strange thing has happened.
24:13-35. The account of Jesus appearing to the disciples on the Emmaus Road advances their understanding. Now Jesus is present with them, but as a Stranger, not revealing himself immediately. Through their mysterious meeting around the Word and Sacrament, Jesus makes himself known. But then he vanishes again!
24:36-49. Today's story forms the climax, as Jesus comes to the disciples, shows them his resurrected body, and even eats in their presence. At first they are startled, afraid, and still wondering. But the risen Lord patiently convinces them that his words have been true all along—as Messiah, he had to suffer, die, be buried, and then be raised from the dead. The new creation, the long-awaited Messianic era, has arrived with a powerful act of God, now confirmed by the presence of the risen Lord right there among them. Jesus, in the flesh!
This encounter gave them assurance in their faith. That much is clear. But what about us today? How can we, who do not have this same privilege of meeting, touching, and witnessing the resurrected body of our living Savior, have the same assurance of faith as those first disciples?
First, we have the disciples' own eyewitness testimony, as Luke himself affirmed in his purpose statement (1:1-4). One of those disciples, John, put it this way: "We declare to you what was from the beginning, what we have heard, what we have seen with our eyes, what we have looked at and touched with our hands, concerning the word of life— this life was revealed, and we have seen it and testify to it, and declare to you the eternal life that was with the Father and was revealed to us…" (1John 1:1-2).
Second, we have Jesus' gift, the Holy Spirit, who indwells us to confirm to our hearts the reality of Jesus and his salvation: "For you did not receive a spirit of slavery to fall back into fear, but you have received a spirit of adoption. When we cry, 'Abba! Father!' it is that very Spirit bearing witness with our spirit that we are children of God…" (Romans 8:15-16).
With these gifts from God, we may say with the Apostle Paul: "I know the one in whom I have put my trust, and I am sure that he is able to guard until that day what I have entrusted to him" (2Tim 1:12).
Prayer
Almighty Father who gave your only Son to die for our sins and to rise for our justification: Give me grace so to put away the leaven of malice and wickedness, that I may always serve you in pureness of living and truth; through Jesus Christ your Son my Lord, who lives and reigns with you and the Holy Spirit, one God, now and for ever. Amen.
(Prayer Appointed for the Week from The Divine Hours)