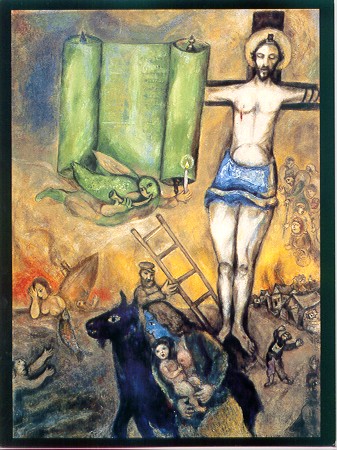 By Chaplain Mike
Update: We've had some good comments, but they have focused on academic issues. That is fine, but I'm really much more interested in how this text speaks to Jesus-shaped spiritual formation.
It's time to get back to our series, begun in June, on the Jesus-shaped life.

"Shaped By Jesus" is a series of sign-posts pointing to Jesus' teaching and acts as the soil from which Christlike discipleship grows. We are shaped by Jesus and we are shaped to be like Jesus in his character and mission.
The Spirit enables us to be with Jesus today as we live our daily lives in the context of the Biblical story. As we contemplate the words and acts of Jesus, and as we live in a conversational relationship with him, our minds and imaginations discover that Jesus is the Way—not only the Truth we believe, and the Life we receive—but also the pattern of life which shapes ours.
Note on today's art—
"Yellow Crucifixion" by Jewish artist Marc Chagall (1943) is one of a number of paintings the artist did to express the horrors of the Holocaust by combining Jewish symbols with Jesus' crucifixion. Note how Jewish Chagall's Jesus is—wearing the tallith or prayer shawl around his waist, donning the tefillin (phylacteries) worn by Orthodox Jews on their arms for morning prayers, and holding an oversized Torah scroll above images of European Jewish suffering. For Chagall, Jesus represented the ultimate Jewish martyr.
Today, we look at Jesus' words introducing his Messianic perspective on the First Testament Scriptures and righteousness in Matthew 5:17-20.
Matthew 5:17-20 (TNIV)—
Do not think that I have come to abolish the Law or the Prophets; I have not come to abolish them but to fulfill them. Truly I tell you, until heaven and earth disappear, not the smallest letter, not the least stroke of a pen, will by any means disappear from the Law until everything is accomplished. Anyone who sets aside one of the least of these commands and teaches others accordingly will be called least in the kingdom of heaven, but whoever practices and teaches these commands will be called great in the kingdom of heaven. For I tell you that unless your righteousness surpasses that of the Pharisees and the teachers of the law, you will certainly not enter the kingdom of heaven.
If Jesus is going to shape our lives, we must adopt his way of approaching the Scriptures and what they teach about being in the right before God.
The first two parts of this sermon laid all the stress on God's grace in Jesus. He came to bring "blessing" to those the world considers losers. These unlikely "blessed ones" also receive the grace of vocation, becoming God's representatives in the world, slowing the pace of corruption and promoting positive good and God's glory. Jesus seemed to be turning the world upside down. If blessedness and vocation are gifts of God's pure grace, what then do we do with the First Testament Scriptures and their emphasis on the Law and righteousness? Jesus answers in Matthew 5:17-20.
1. The Bible, the whole Bible, points to Jesus. When he came, he did not replace the First Testament Scriptures and declare them no longer important or in effect. Rather, he came to fulfill those Scriptures. Its stories, genealogies, moral, ethical, social laws and religious regulations, songs, wisdom writings, and prophecies all anticipate his coming. Whether through direct prophecy or typological foreshadowing, "the Law and the Prophets" (the OT canon, sometimes called, "The Law, Prophets, and Writings") must be "understood through the person and teaching of him to whom it points and who so richly fulfills it" (D.A. Carson, EBC vol. 8, "Matthew").
Since the Bible is supremely about Jesus, when he came, he asserted his right to tell us what it's all about. We can only understand it through him. We only truly understand it when we let it lead us to him.
Jesus shapes our lives when we go to the Bible to know him. That means First Testament as well as New Testament. The First Testament is not Law, as contrasted with the New Testament, which is Gospel. It is all Gospel, from different perspectives. It is the story of God announcing his Good News, then bringing it to pass through Jesus. Jesus' disciples are those who enter and walk in this Biblical story.
They breathe the fresh air of creation,
Feel the shame of nakedness and exile from Eden,
Watch in awe as the sea parts and then returns to drown the relentless enemies of God,
Join the gaggle of slaves who travel to the mountain where Yahweh's covenant love transforms them into a nation,
Cry out to this same covenant-keeping God through centuries of mixed faithfulness and unfaithfulness.
And then Jesus is born, the Seed of the Woman, the Seed of Abraham, the Lion from the tribe of Judah, the Prophet like Moses, the Son of David. "For to us a child is born, to us a son is given, and the government will be on his shoulders. And he will be called Wonderful Counselor, Mighty God, Everlasting Father, Prince of Peace" (Isa. 9:6). And when he came of age, he began proclaiming that the Kingdom of God had dawned. In his words and works he demonstrated that he was indeed "the one and only Son, who came from the Father, full of grace and truth" (John 1:14). The King had come, the Kingdom begun. Good News!
And then, of course, every page of the New Testament more fully explicates the significance and implications of this Christocentric message for now and eternity. Somehow, in some way, every passage in the First Testament prepares for Jesus, and every passage in the New Testament points to Jesus.
That does not mean Jesus' name or a detailed description of his person and work is immediately apparent in every text. At times, we only see him as we step back and see the big picture—the broad sweep of the Biblical story, its shape and contours. Nevertheless, the whole First Testament is like a wave that swells until it crashes on the shore in Bethlehem of Judea, the beachhead of redemptive history.
When we read and study the Bible, our study is not complete until we are able to answer, "What does this tell me about Jesus?" And as the Spirit shapes our understanding of the Bible to conform to its picture of Jesus, his teaching and his work, our lives become shaped to be like his: "And we all, who with unveiled faces contemplate the Lord's glory, are being transformed into his image with ever-increasing glory, which comes from the Lord, who is the Spirit" (2Corinthians 3:18).
Therefore, Jesus proclaims, not even the smallest part of the Word will pass away until it is all fulfilled in him. And those who teach it and follow it faithfully will be considered great in God's Kingdom. It is they who will be most shaped like Jesus.
2. Jesus, the One who fulfills the Scriptures, interprets what "righteousness" means. In Isaiah 61, the prophet proclaimed that the poor who received the Messiah's Good News would become "oaks of righteousness, the planting of the LORD, that he may be glorified."
Righteousness signifies a right standing before God and conformity of life with his own righteous character. Isaiah prophesied, and Jesus reiterated in the teaching of the Sermon on the Mount that those who receive God's grace are declared righteous in God's sight (justification) and set on a path of transformation into experiential righteousness (sanctification).
This righteousness "surpasses that of the Pharisees and the teachers of the law." Theirs was the "right living" of conventional religion. The religious system set forth the behavioral expectations, and as long as one stayed within bounds, that person was considered "righteous." To be fair, many Pharisees and religious teachers stressed attitudes as well as actions, but overall the system they oversaw was designed for external conformity, not internal transformation. Instructions and rules cannot turn hearts of stone into hearts of flesh. Laws can tell us what to do and not do, as well as enumerate the consequences of obedience and disobedience, but they cannot create love, trust, and filial obedience in our lives.
There must be an inward change. This is what the New Covenant promised:
Behold, the days are coming, declares the LORD, when I will make a new covenant with the house of Israel and the house of Judah, not like the covenant that I made with their fathers on the day when I took them by the hand to bring them out of the land of Egypt, my covenant that they broke, though I was their husband, declares the LORD. But this is the covenant that I will make with the house of Israel after those days, declares the LORD; I will put my law within them, and I will write it on their hearts. And I will be their God, and they shall be my people. And no longer shall each one teach his neighbor and each his brother, saying, 'Know the LORD,' for they shall all know me, from the least of them to the greatest, declares the LORD. For I will forgive their iniquity, and I will remember their sin no more. (Jer. 31:31-34)

I will sprinkle clean water on you, and you shall be clean from all your uncleannesses, and from all your idols I will cleanse you. And I will give you a new heart, and a new spirit I will put within you. And I will remove the heart of stone from your flesh and give you a heart of flesh. And I will put my Spirit within you, and cause you to walk in my statutes and be careful to obey my rules. (Ezekiel 36:25-26)

This is what Christ came to bring. This righteousness, this inward change is the effect of the Kingdom on those who receive it. When we trust Christ, who died and rose again on our behalf, God forgives our sins and declares us righteous in our standing before him. He pours out his love and Spirit into our lives, raising us from our own dead works to walk in the good works he has prepared for us (Eph. 2:1-10).
Much of this obviously is detail that goes beyond Jesus' introduction to the concept of New Covenant righteousness in the Sermon on the Mount. Nevertheless, he sets forth a thesis here that it will take the rest of the New Testament to fully explain: In Jesus, a righteousness from God has been revealed (Romans 1:17), a righteousness that surpasses that of conventional religion.
Jesus shapes our lives into a life like his when…
We read the Bible in a Jesus-shaped way.

We seek a Jesus-shaped righteousness.