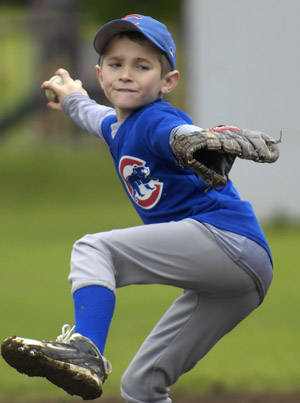 By Chaplain Mike
In the wake of last night's baseball All-Star game, this simple reminiscence.

It was one of those perfect summer mornings. I was seven years old, a child in the great Midwest, looking forward to another fine day of riding my bike, playing ball, climbing the old weeping willow in our back yard, and doing a hundred other things seven year-old boys do with their pals on sunny summer days.
We were eating breakfast at the table, and I looked up from my bowl of Cheerios to check out the baseball standings in the morning paper. Being a Chicago Cubs fan, I naturally looked first at the bottom of the standings.
This was long before division play in major league baseball. It was simply National League, American League. Two teams ended the season on top, and played each other in the World Series. It was an all or nothing proposition, and for the Cubs it was always nothing. We were regularly in the second half of the National League standings, and usually near the bottom. That's why it seemed so weird when I couldn't find them right away in the cellar. I stopped chewing, and my eye slowly scanned upward until they appeared in FIFTH PLACE!
Well, I'm telling you, it might as well have been VE Day or New Year's Eve or something. I'd never seen anything like it before. The Cubs–in the upper half of the standings, moving toward the top! I shot up out of my chair, grabbed the paper and ran out the door. The screen slammed behind me as I yelled to my mom, "I'll be right back! I gotta go tell Jimmy!"
That'd be Jimmy Sandberg, one of my pals. He lived across the street in a white house. We never played much in his yard because it was small; well now, come to think of it, we did play army there sometimes because his side of the street had lots of great trees and bushes to hide behind. I'll never forget the time we came running out from behind those bushes and flung ourselves to the ground with toy rifles in our hands like we were hitting the beach, and I landed right in a big pile of dog poop.
But mostly we played on my side of the street. I had the best basketball court around. Our baseball field was down behind my best friend Mark's house. And our football field stretched behind my garage through several neighbors' backyards. Jimmy was a good friend who played on all those fields with me, and we often rode bikes over the brick streets to the corner store to buy baseball cards too. He was a crazy Cubs fan like me, and together, we couldn't get enough of them.
I sprinted breathlessly to Jimmy's back door and pounded on it. "Jimmy, come here! You gotta see this!" I yelled. When he came to the door I caught my breath long enough to find the standings in the paper and point out that the Cubs had climbed up from the cellar and were in fifth place. Jimmy couldn't believe it. His eyes got real big, he let out a yelp, grabbed me, and we started dancing around like the silly little boys we were, chanting, "The Cubs are in fifth place! The Cubs are in fifth place!"
Oh man, you'd a-thought we'd won the Series. We danced and sang until we got dizzy and tumbled to the ground laughing and wrestling and crumpling the paper all up. When we let go our hold on each other we fell on our backs in the dewy grass looking up into the most beautiful blue sky you'd ever want to see. In a few hours the Cubs would be playing and we'd have the transistor radio on by the driveway, listening to the game while we were shooting baskets or playing catch or swinging on the branches of the weeping willow out back.
The Cubs ended up in seventh place that year. Not too bad for them; still second division. But what unsurpassed joy we had for that one day, what feelings of hope and possibility!
I haven't seen Jimmy for well over forty years now, and I wonder if he's still around, and if he remembers that celebration. As for me, on summer days I can't get the picture out of my mind, nor can I stop marveling at how little then it took to make me truly happy.
Just fifth place–FIFTH PLACE!
I guess that's what it's like when you're seven and it's summer.