Hello, friends, and welcome to the weekend. Ready to Ramble?
It's graduation season, and you can tell something about a school by who it brings in for commencement speaker. Even small, non-distinguished schools can bring in important thinkers and speakers if they try. Carthage College nabbed Speaker of the House Paul Ryan. High Point University will host Condoleeza Rice. Scripps College went with Madeleine Albright. And North Virginia Community College even snagged Jill Biden, wife of our vice-president. And then there is Liberty University, who went with Mel Gibson, Vince Vaughn, and Rashad Jennings, a football player. Liberty also decided to give Jennings an honorary doctorate for some reason.
Speaking of Liberty, students in the fall will find at least one of the conservative school's rules to be eliminated: they can now keep handguns in their dorm rooms. But not Lava Lamps.
Going to be flying soon? You might want to leave a little extra time. Like 8 hours or so.  It seems the security screening lines have dramatically increased all throughout the country. Airport chiefs have gone creative to try lighten the mood. The Atlanta airport is adding extra music performers in the areas before security, and handing out snacks and beverages to passengers in line. Cincinnati  International Airport has been trying to stabilize the situation with miniature horses (because who doesn't like miniature horses?). And the San Diego International Airport decided clowns would be a good idea.
The TSA has pledged to add 800 new security staff by June to ease queues, but passengers this summer should still be prepared for long waits. And short horses.
By the way, you know TSA lines are too long when you read the headline, Corpse turns up at Atlanta International Airport security.
I don't think I'm often on the same page with Iran's Revolutionary Guard. But I am on this one: They really, really dislike Kim Kardashian. In fact, they are accusing her of being a "secret agent" which may be giving her too much credit. A spokesman for the group's Organized Cyberspace Crimes Unit accused Kardashian of working for Instagram as part of a complicated ploy to "target young people and women," ostensibly corrupting them with aspirational photos depicting a lifestyle that's at odds with Islam.
This might be a good place to plug my favorite twitters stream: KimKierkegaardashian (@KimKierkegaard), described as "The philosophy of Søren Kierkegaard mashed with the tweets & observations of Kim Kardashian." Some recent faves:
The video below is for an IndieGoGo campaign called September 11th Redux with a goal of $1.5 million. The goal: to re-create 9/11. That's right, they want to buy a old 747, fill it with fuel, and launch it into a tall building, to see if the "truthers" have a point. What could possible go wrong?
BTW,if you donate $125 you'll get a T-Shirt that says "9-11: THE REDUX" which will be awesome for those of you who love explaining your clothing to the TSA and Federal officers.
Hillary and Bill Clinton raked in a combined $6.725 million in paid speeches in 2015, according to a personal financial disclosure form released late Tuesday night. Hillary gave six paid speeches for a total income of $1.475 million. Her biggest pay day was to Ebay ($315,000) but she slummed it with the Canadian Imperial Bank of Commerce ($150,000).  Bill gave 22 paid speeches last year for a total of $5.25 million. Of these speeches, 11 of them occurred after his wife became a presidential candidate. In 2014, the Clintons made roughly $18 million from roughly 100 paid speeches — many of which were to banks. Altogether, they have made more than $153 million in paid speeches since they left they White House, receiving an average payday of $210,795 for each address. Of course, these banks and companies only pay this kind of change because of Bill and Hillary's eloquence, not for any quid pro quo. Just ask them.
Speaking of Hillary, she is not out of the primary woods just yet, after tying Bernie Sanders in Kentucky and losing in Oregon last week. Actually, I only mention this to set up this gif: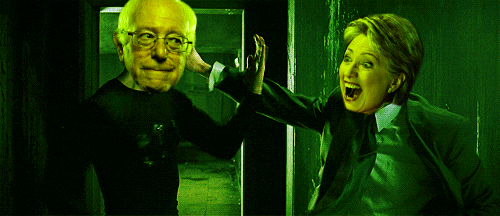 A new Pew Research Center study of the ways religion influences the daily lives of Americans finds that people who are highly religious are more engaged with their extended families, more likely to volunteer, more involved in their communities and generally happier with the way things are going in their lives. But they told "white lies" only slightly less often than non-highly religious people, and lost their tempers at the same rate. Pew also published this very interesting info:
Apparently, nearly one in seven Christians don't think belief in God is essential to their Christianity. Okaaaaayyy…
How much was leBron James given in his latest deal to endorse Nike shoes? Apparently, somewhere north of 1 billion dollars.
Spotted on British Craigslist: 
What do right-wing conspiracy nuts and the porn industry have in common (well, besides the whole "sell my soul for dollars" thing)? Answer: they have to keep upping the ante. Take infoWars broadcaster and Donald Trump ally Alex Jones.  He's been claiming for a while now that First Lady Michelle Obama is secretly a transgender man. But this time he's adding a new twist to his conspiracy theory: that Obama had comedienne Joan Rivers killed after she joked about the first lady being trans. "Don't forget," Jones said, "the famous comedienne Joan Rivers said, 'Of course everyone knows she's a tranny.' She's dead serious, 'She's a man.' Deader than a doornail in a routine operation where basically she had fire poured down her throat and was a fire-breathing goblin. Dead on arrival. Shoot your mouth off, honey, you will die."
But why stop there:  "I really think — her daughters don't look like her — I really think this is some weird hoax they did again," he said, "just like he didn't get sworn in on the Bible, it was the Quran. All this weirdness, I mean, I used to laugh at this stuff, but man, it's all about rubbing our noses in it. I think it's all an arranged marriage, it's all completely fake and it's this big sick joke because he's obsessed with transgender, just like some weird cult or something. I think Michelle Obama is a man. I really do. I really do. I believe it."
And the proof of all this is . . . the number of hits online videos have. "The national media takes it when I talk about this and acts like I'm crazy [no way!!!]. Listen, there's hundreds of millions views on YouTube." Of course, there are also millions of views on videos claiming that Obama and other leaders are shapeshifting reptilian humanoids, another conspiracy promoted by Jones.
By the way, Alex also has an explanation for "why we have so many gay people today." It's juice boxes. Gay-tainted juice boxes. Who knew?
By the way, Trump appeared on Jones' radio show in December, when he was already the frontrunner for the GOP nomination, and complimented Jones for his "amazing" reputation. And Trump's top confidant, Roger Stone, has been on Jones' show nearly every week during the campaign.
George Zimmerman's auction for the gun he used to kill Trayvon Martin has closed … and the winning bid topped $120,000. Zimmerman had to relist the auction, after the price on the initial offering was deliberately run up to 65 million dollars by a disgusted online vigilante. The name this man chose for his fake account: "Racist McShootface".
The Church of Scotland will launch a two-year investigation into the possibility of introducing online baptisms, Communion and other Christian sacraments. The church, known as The Kirk, has seen its rolls fall by almost one-third between 2004 and 2015, to just under 364,000 members. The church's Legal Questions Committee, which is responsible for advising the General Assembly, the church's lawmaking body, is pushing for "a wide-ranging review of practice and procedure which is impacted by the use of new technology in church life." It adds: "Now is the time to open up a wide range of discussion on these contemporary developments."
After pushback, the Church issued the following clarification:
"Our report makes reference to the possibilities of online membership and even about people gaining access to the sacraments without being physically present in a congregation. This has led to some headlines about 'online baptisms', which would represent a very radical departure from current church practice. It is important to emphasise that the Legal Questions Committee isn't putting forward any such proposals at this time."
So, this happened in New York last week:
No-one has ever accused The Christian Post of having a sense of humor. Until now. Somehow they hired a satirist who is actually funny. Here are some of the top headlines from Ligonberry Fields:
Want some more Christian satire headlines? Here are some of the latest from Babylon Bee:
Well, that's it for this week. I leave you with the musical stylings of one of Japan's favorite pop artist, because we are very cosmopolitan and sophisticated here at the Ramblings. Besides, I am hoping Miguel will be able to turn this into a visual hymn for the modern church (just add some Lutheran lyrics, but keep the sweet dance moves and backgrounds). This is Kyary Pamyu Pamyu and one of her first big hits,  Tsukematsukeru,  from 2011. Enjoy!!