Hello, friends, and welcome to the weekend. Ready for some brunch?
Let's start with some nice sporty news. The NFL regular season ended on Sunday, and the alphabet officially has more W's than the Cleveland Browns. I think what happened is the following conversation:
2016 Browns: "Well, we finished 1-15. Can't really get worse than that"
2017 Browns: "Hold my beer!"
I've also heard the city is going to re-name them The Cleveland Brons… No, not because of Lebron, but because the Browns have no Ws.
How did you spend New Year's Eve or day?  Here are some pictures from around the world of people from different cultures celebrating the New Year. What a wonderful, diverse world we live in.
If you lived in most areas of the U.S. you may have notice things got a little chilly this week. In fact, in some places it was colder than Mars. This, of course, does not invalidate global warming. In fact, it may be a sign of it:
In Boston, record high tides and extreme cold produced this effect (so maybe don't complain about scraping your car windows tomorrow, eh?)
HELPPP! #senditto7 #7News pic.twitter.com/9kaqbnnZVa

— Adam Abougalala (@Adam28691) January 4, 2018
Also, off the coast of Nantucket, there were "slurpy waves":
Perhaps things will warm up a bit, now that Elsa has been arrested: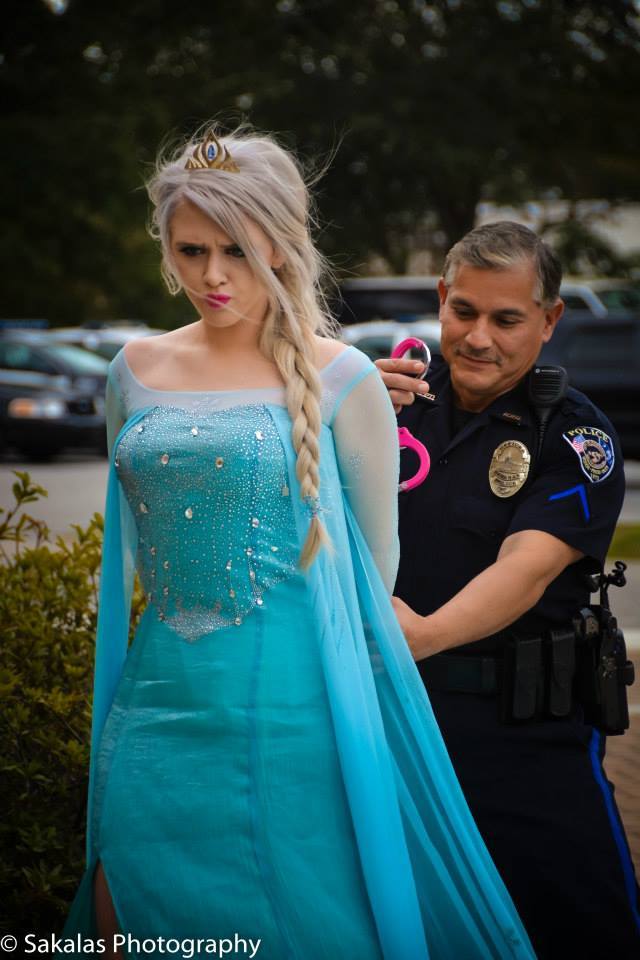 In any case, this might be a helpful reminder:
The Pentagon confirmed last week that it had spent 22 million dollars on a program to collect data on UFO's. Just think, instead of wasting it like that they could have bought a couple dozen toilet seats. Ross Douthat at the Gray Lady uses the occasion to opine on why we are so fascinated by the possibility of alien contact, though we have no hard evidence for it:
…our alien encounters, whether real or imaginary, are the same kind of thing as the fairy encounters of the human past — part of an enduring phenomenon whose interpretations shift but whose essentials are consistent, featuring the same abductions and flying crafts and lights and tricks with crops and animals and time and space, the same shape-shifting humanoids and sexual experiments and dangerous gifts and mysterious intentions.

Jacque Vallée suggested that contemporary U.F.O. narratives are of piece with stories about Northern European fairies and their worldwide kith and kin — and that it's more reasonable to think that we're reading our space age preoccupations into a persistent phenomenon that might be much weirder than a simple visitation from the stars. . . his arguments for the basic continuity between folklore and flying saucers are quite compelling, and I suspect he's correct about the commonality of these experiences …

Sometimes our own elite opinion seems to be shopping for a new religion: I have read books in the last year pitching versions of Buddhism, pantheismand paganism to the post-Christian educated set. For such shoppers, the striking overlap between U.F.O.s and fairy stories might eventually become an advertisement for an updated spiritualist cosmology, not a strike against it — especially if woven together with multiverse and universe-as-simulation hypotheses that imply a kind of metaphysics of caprice.

Meanwhile those of us who remain Christian — and yes, this is a Christmas column, U.F.O.s and all — can be agnostic about all these strange stories, not reflexively dismissive, since Christianity does not require that all paranormal experiences be either divinely sent or demonic or imaginary.
Thoughts?
I knew it: 
Well, this is embarrassing. A Nobel Laureate has retracted a 2016 paper in Nature Chemistry that explored the origins of life on earth, after discovering the main conclusions were not correct. Even though the paper was published only 18 months ago, it has already been cited by 26 other papers in the scientific literature. Why? Because it appeared to solve a very serious problem in what is probably the most popular origin-of-life scenario.
The origin of life hypothesis you were likely taught in school (the prebiotic soup theory and the Miller-Urey Experiments) are now relegated to the ash-heap of failed theories. But what mechanism, then, can account for non-living materials giving birth to life? After all, one of the fundamental laws of biology is bio-genesis: life comes from life.
One possible scenario is the "RNA world" hypothesis. In this view, life was not initially based on DNA. Instead, it was based on a similar molecule, RNA. But it has many difficulties:
One of the many problems with this origin-of-life scenario is that in all studies so far, RNA needs enzymes in order to replicate properly. Other RNA molecules could, in theory, do the jobs that enzymes are doing now, but no mechanism by which this happens has been found. That's where the retracted paper [by Nobel Laureate Jack W. Szostak] comes in. It reports on a series of experiments that seemed to demonstrate a possible way in which RNA could be replicated over and over again without the help of enzymes.
But in subsequent experiments this year, Tivoli Olsen — a member of Szostak's lab — could not reproduce the 2016 findings. When she reviewed the experiments from the Nature Chemistry paper, she found that the team had misinterpreted the initial data.
The errors were "definitely embarrassing," Szostak told retraction watch:
In retrospect, we were totally blinded by our belief [in our findings]…we were not as careful or rigorous as we should have been (and as Tivoli was) in interpreting these experiments.
Jay Wile (Ph.D in nuclear physics) writes about this:
This happens a lot in science. Scientists aren't unbiased investigators who don't have any stake in the outcome of their experiments. Generally, when we do experiments, we are looking for some result. If we aren't careful, that can make us see things which aren't really there. In this case, that's what happened to the authors of the paper.

Now don't get me wrong. I am not writing about this to insult Dr. Szostak and his team. In fact, I applaud them! Not only did they step up and do the right thing (regardless of the consequences), but Dr. Szostak even freely admitted the reason for the error.

I am writing this so that people understand there is no such thing as an unbiased scientist. We all approach science with our inherent biases, and those biases affect our results. The problem isn't the bias. The problem is that so many scientists (as well as science journalists and science educators) pretend that it doesn't exist!
In Somersworth, New Hampshire, two very different symbols now share space. At ground level, a monument of the Ten Commandments, and just above it, the "atheist flag" will blow in the breeze.  It seems last summer the Ten Commandments monument here was either intentionally knocked over or fell over, no one's really sure. The City, which owns the traffic island, suddenly had to make a choice. Should it be moved to private land? Or re-erected? It stirred intense debate. In the end, the City decided to put the monument back up, but also add two flag poles. One would fly the city's official flag, the other would be a rotating flag to honor Somersworth's diversity. That's opened the door to a rather unconventional request. In January, the town will fly the atheist flag over the Ten Commandments."The City wants to celebrate diversity, and I don't think you can get much more diverse than putting an atheist flag over the Ten Commandments," says Richard Gagnon, a local atheist, who put in the request. Okay then.
Oh, you didn't know the atheists had a flag? Thought it was "not a worldview or belief system, but simply a negation of a certain belief?" That's sweet.
That led me thinking: which religions/groups have the best and worst flags? Here are your choices (note, most of these are non-official, since religions are not countries):
Some Oregonians are struggling with a new task: pumping gas. On January 1, a new law went into effect that brought Oregon into the latter half of the 20th century:  Gas no longer has to be put into your car by an attendant; you can now pump diluted dinosaurs yourself. The transition has not been. . .seamless:
Lastly, the legendary author of Lord of the Rings would have been 116 this week – so why not end with some LOTR memes?