Hello, friends, and welcome to the weekend? Ready for some brunch?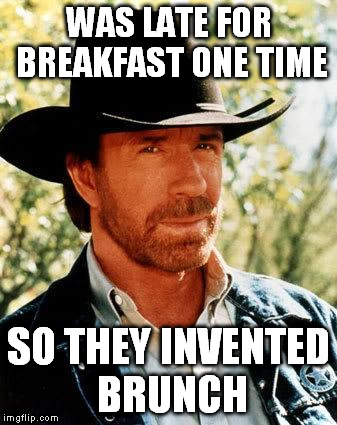 Have you heard about the newest, stupid fad? The Tide Pod Challenge.  People, mostly teens, are filming themselves eating a laundry pod. It's like the ice bucket challenge, with two big differences. First, no money is going to charity. Second, a LOT of people are getting sick.
This has actually been a thing for a couple years now, but is getting worse. In 2016, poison control centers responded to 39 cases of intentional exposures among teenagers. In 2017, that number rose to 53 cases. In the first 15 days of 2018, officials have responded to 39 cases of intentional exposure. Of those 39 cases, 91 percent were for ingestion, the AAPCC said.
Tide and other groups have gone out of their way to tell people not to eat their laundry chemicals, something they obviously are kicking themselves for not thinking of earlier. And some stores are locking the pods down, like they are laundry meth.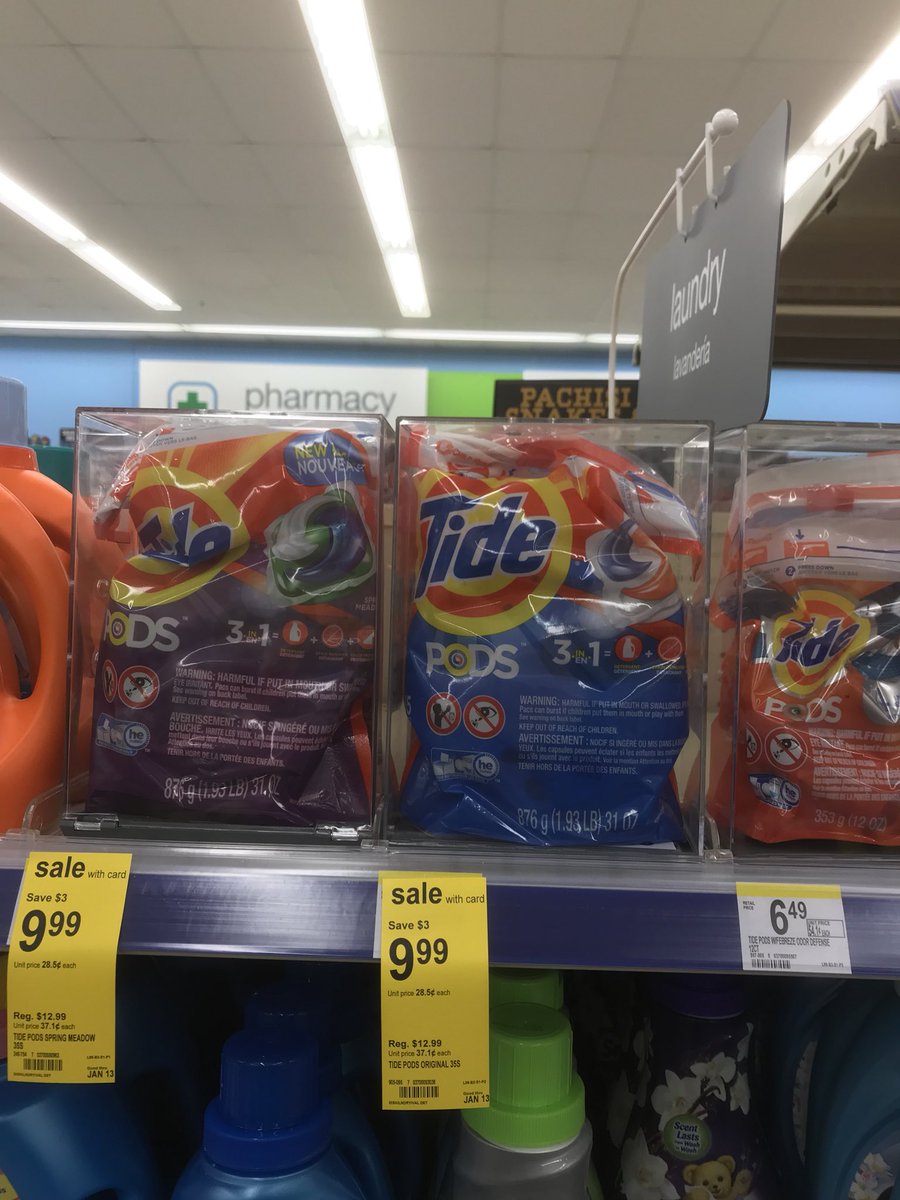 Yes, its 2018, and we have to tell people not to eat laundry soap. And, being 2018, this has become the subject of all kinds of memes and jokes: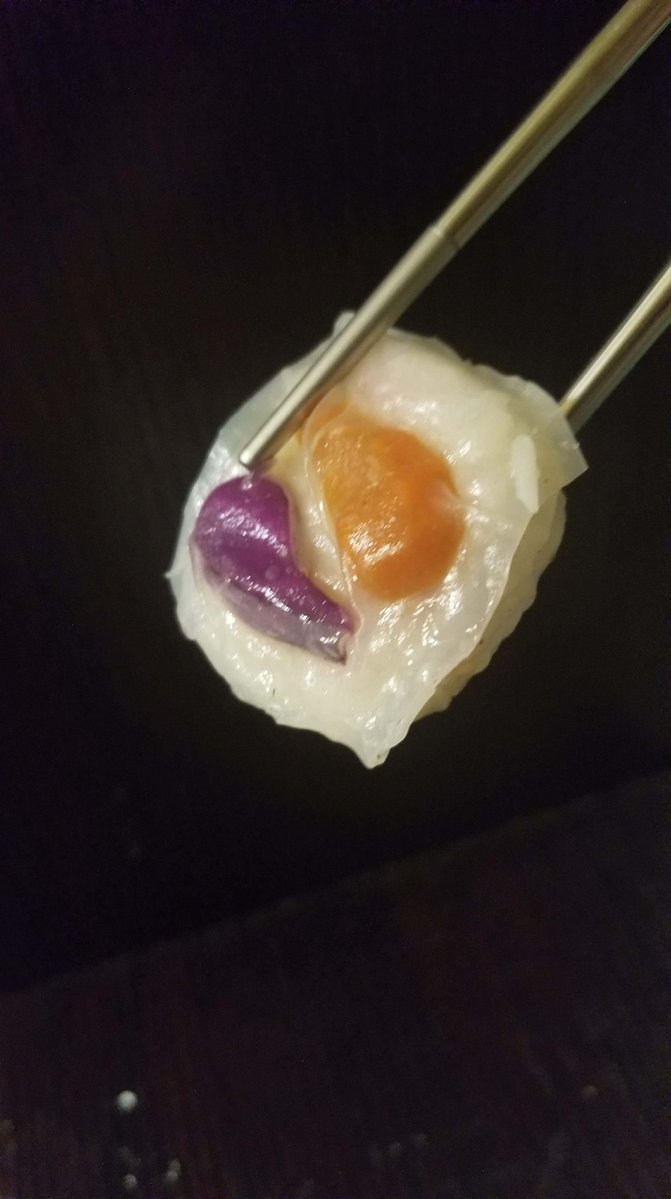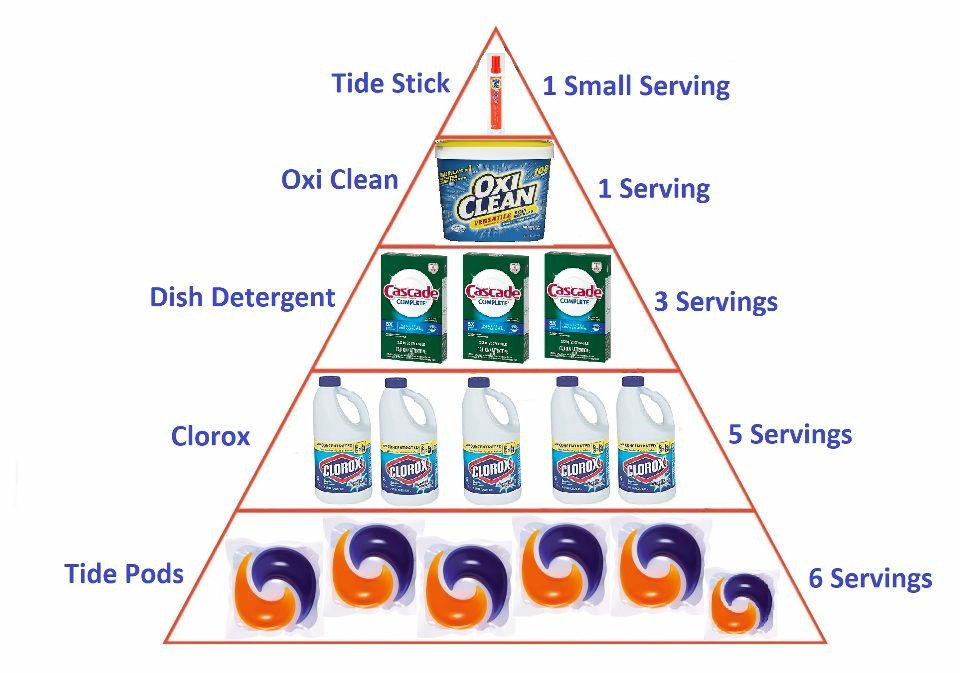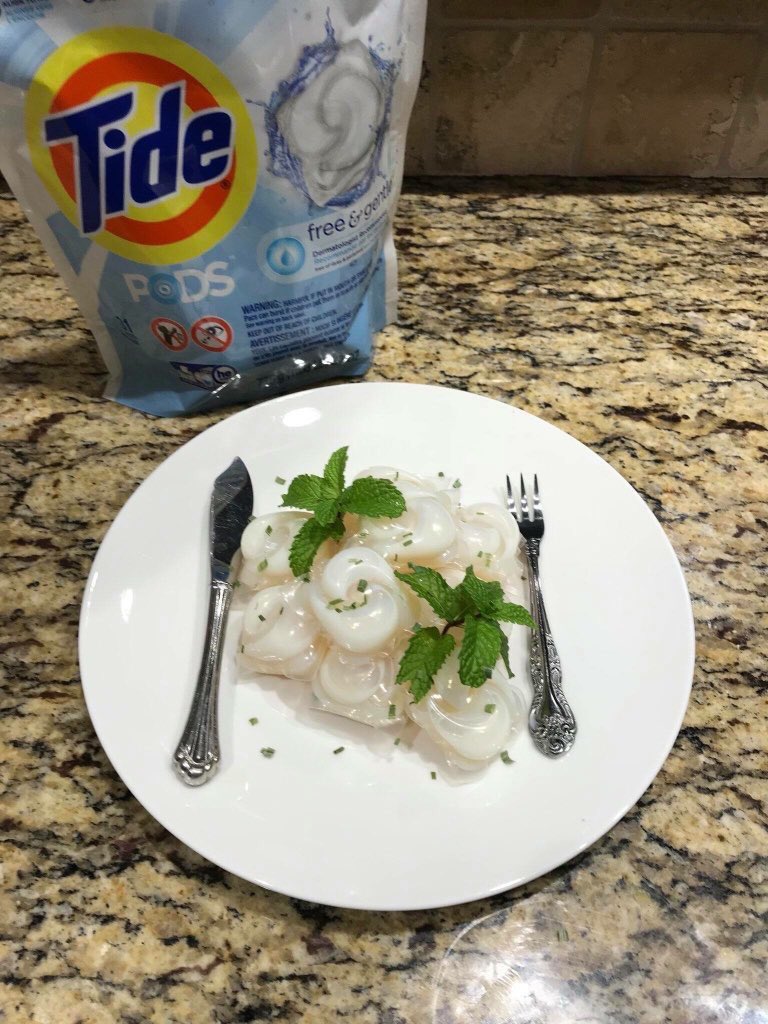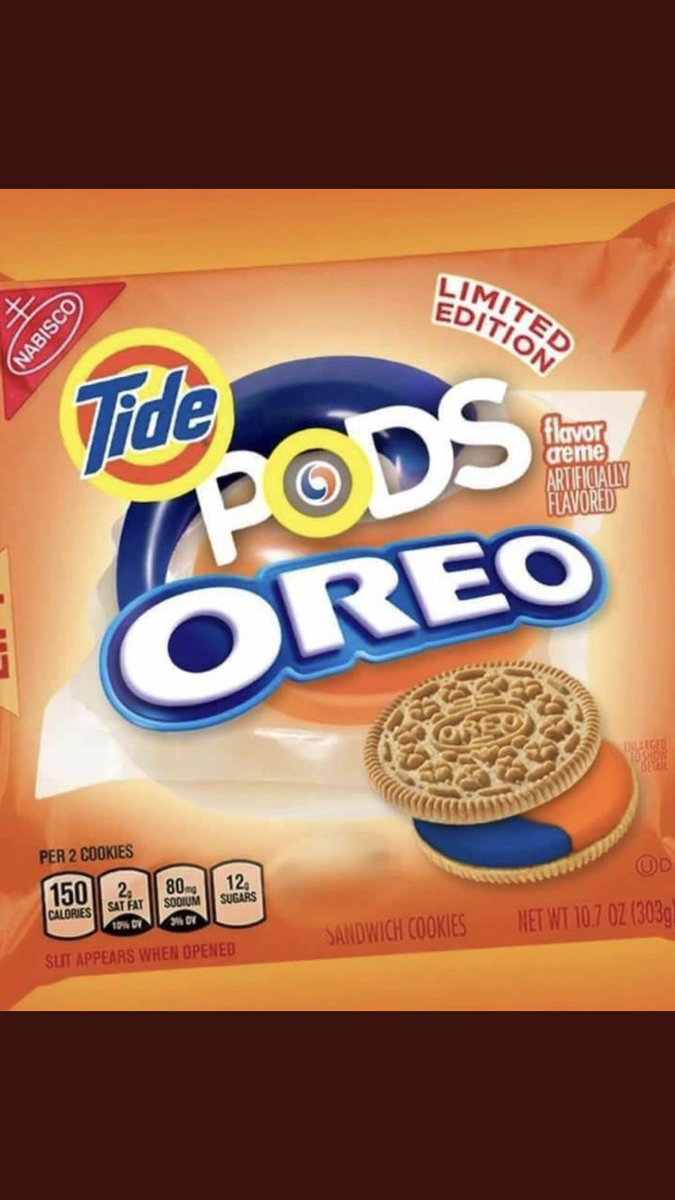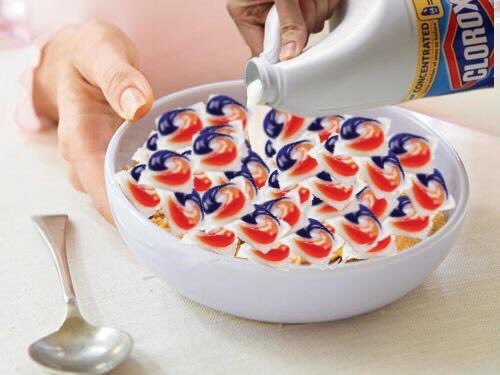 Emma Gibson was conceived a year after her mother was. That is not a typo. Emma Gibson was conceived in 1992, but not born until late last year. She was frozen as an embryo and donated to a Knoxville faith-based clinic that specializes in embryo donation and adoption. Last year, she was implanted into her mother, Tina Gibson. "This embryo and I could have been best friends," Gibson, now 26, told CNN. Tina and her husband "adopted" the frozen embryo after learning he was likely infertile. It came from an anonymous couple who went through in vitro fertilization (where sperm and egg are united in a lab) and donated their remaining frozen embryos, which have remained suspended in time for more than two decades.
Here's a fun headline: Avocados Still Exist Thanks to Ancient Sloth Poops. The American Museum of Natural History recently shared a few facts about the Lestodon, an ancient 15-foot sloth that enjoyed eating avocados whole. As the animals (slowly) traveled around the land throughout the Cenozoic era, they pooped out avocado pits, and the fruit began to grow in new places around what is now North and South America. The Lestodon was one of the few creatures at the time could handle eating avocados whole, swallowing the pits along with the creamy flesh. If the Lestodons hadn't ingested and subsequently relieved themselves of the avocado pits as they traveled, it's very likely the fruit may have gone extinct.
By the way, The Ancient Sloth Poops would be an excellent name for a rock band.
A Michigan woman named Tara was driving home recently, and found herself behind an Amish buggy pulled by a lone horse. And a skier. Tied to the buggy.
Drunken Drone Flying is now illegal in New Jersey. The law prohibits flying a drone with a blood alcohol content of 0.08 percent or higher, the same as for driving a vehicle, or while drugged. Violators face up to six months in jail, a $1,000 fine or both.
Officials in the Tairua estuary on the Coromandel Peninsula on New Zealand's north island decided this year to put a ban on public alcohol consumption over the holidays. But some locals found a loophole: they built an island out of sand during a low tide, and it was just big enough to fit a picnic table and and some brews. Because the friends were in "international waters", they technically were excluded from the alcohol ban, and watched the fireworks from their little island.
But authorities seemed to be taking the initiative in light-hearted spirit. "That's creative thinking – if I had known [about it] I probably would have joined them," said local police commander Inspector John Kelly when told about the sand island.
The Atlantic posted a piece titled, "Science is Giving the Pro-life Movement a Boost". 
The first time Ashley McGuire had a baby, she and her husband had to wait 20 weeks to learn its sex. By her third, they found out at 10 weeks with a blood test. Technology has defined her pregnancies, she told me, from the apps that track weekly development to the ultrasounds that show the growing child. "My generation has grown up under an entirely different world of science and technology than the Roe generation," she said. "We're in a culture that is science-obsessed."

"The pro-life message has been, for the last 40-something years, that the fetus … is a life, and it is a human life worthy of all the rights the rest of us have," she said. "That's been more of an abstract concept until the last decade or so." But, she added, "when you're seeing a baby sucking its thumb at 18 weeks, smiling, clapping," it becomes "harder to square the idea that that 20-week-old, that unborn baby or fetus, is discardable."

When Colleen Malloy, a neonatologist and faculty member at Northwestern University, discusses abortion with her colleagues, she says, "it's kind of like the emperor is not wearing any clothes." Medical teams spend enormous effort, time, and money to deliver babies safely and nurse premature infants back to health. Yet physicians often support abortion, even late into fetal development.

As medical techniques have become increasingly sophisticated, Malloy said, she has felt this tension acutely: A handful of medical centers in major cities can now perform surgeries on genetically abnormal fetuses while they're still in the womb. … "The more I advanced in my field of neonatology, the more it just became the logical choice to recognize the developing fetus for what it is: a fetus, instead of some sort of sub-human form," Malloy said. "It just became so obvious that these were just developing humans."
But not all pro-life advocates want the movement to base its arguments on science:
"The question of whether the embryo or fetus is a person … is not answerable by science," said Daniel Sulmasy, a professor of biomedical ethics …"Both sides tend to use scientific information when it is useful towards making a point that is based on … firmly and sincerely held philosophical and religious convictions."

For all the ways that the pro-life movement might be seen as countering today's en vogue sexual politics, its obsession with science is squarely of the moment. "We've become steeped in a culture in which only the data matter, and that makes us, in some ways, philosophically illiterate," said Sulmasy, who is also a doctor. "We really don't have the tools anymore for thinking and arguing outside of something that can be scientifically verified."
The largest gadget show in the world, the Consumer Electronic Show, ended in Las Vegas last week. The most memorable new invention: Kohler's Smart Toilet, designed to "make everyday moments better."
Kohler's high-end Numi toilets have been around for a few years but this latest version can be voice controlled, opens and closes automatically as your approach and even pre-heats the seat exactly to your liking. Mood lighting is standard.
You can even hook it up to your Amazon Echo, so you can ask Alexa to play encouraging music through the Numi's built-in speaker. Which got me to thinking: what would be the most appropriate songs for your smart toilet to play when you take the Browns to the Superbowl? Here are a few suggestions for your playlist (add yours in the comments):
Every Move You Make I'll be Watching You (The Police)
Release the Beast (Breakwater)
Patience (Guns and Roses)
Free Falling (Tom Petty)
Let it Go (Frozen)
Ring of Fire (Johnny Cash)
Oops, I did it Again (Brittany Spears)
Chocolate Rain (Tay Zonday)
Who Let the Dogs Out? (Baha Men)
Taking Care of Business (BTO)
NFL free agent Colin Kaepernick announced Wednesday that he will name 10 beneficiaries over the next 10 days for the final $100,000 of his $1 million pledge to charity. Each organization picked will receive an additional $10,000 from a different celebrity.
The Mormon Church has picked a new leader (Russel Nelson) and he's 93 years old. Which is why they're getting together on Friday to pick another new leader. At least you can't accuse them of ageism.
At his introduction, there was this exchange between Nelson and Peggy Fletcher Stack, the Salt Lake Tribune's award-winning religion reporter:
Stack: "So under President Monson we saw some real advances towards gender equity — the lowering of the missionary age, especially for sisters, and also adding women to some of the executive committees, but the Church leadership is still white, male, American. What will you do in your presidency to bring women, people of color, and international members into decision-making for the Church?"

Nelson: "That's a good question, Peggy. I hope I can be forgiven if I say I have a special place in my heart for you. I know your mother. I know your father. I know all four of your grandparents. And I know your family — your missionary children who've distinguished themselves with wonderful service — so Peggy is special to me. Um, now what was your question?"
In case you haven't seen one, here is a picture of a baby musk ox:
Miners in Africa have found a massive 910 carat diamond worth tens of millions of dollars. The diamond will go to either a museum or to Beyoncé the next time Jay-Z cheats on her.
Another odd headline: Toxic Extract Used in Poison Arrows Could Be The Future of Male Contraception. "Scientists have identified a chemical that could be suitable for a male contraceptive pill in a plant extract that African warriors and hunters traditionally used as a heart-stopping poison on their arrows. Researchers  say ouabain, a toxic substance derived from two kinds of African plants … could serve as the basis for a working male pill."
The cold weather didn't stop the tumbleweeds from tumbling in Texas last week:
Did you know there are now four ax-throwing bars in Massachusetts? And two more scheduled to open this spring in Boston? That's right, alcohol and ax-throwing. What could go wrong? So far, all the customers give it one-and-a-half thumbs up.
Tomorrow is the AFC Championship game between the Patriots and the Jaguars. PLEASE, PLEASE win Jacksonville. And Tom Brady has injured his hand. People said, "What happened?" He said, "You know that new ax-throwing bar?"
How about we end with some photos of the week, courtesy of the Atlantic:
Well, that's it for this week, friends. Enjoy your Saturday. And be nice in the comments section please; we always learn more from people we disagree with. And I will be preaching tomorrow on Blessed Are the Meek, so don't make me use any of you as bad examples!