Hello, Friends, and welcome the weekend? Ready for some brunch?
The Golden Globes were last Sunday. Everybody's talking about the big speech Oprah made — and a lot of people say she should run for president. But I don't think President Oprah is going to  happen:
Why would she choose a demotion?
With a smaller house?
Oprah is Harpo backwards and what's Harpo's last name? Marx! We aint electing no communist!
It would be too weird at her State of the Union, when Congress keeps checking under their seats for a free car. "YOU GET A CAR AND YOU GET A CAR!"
On the other hand, did you see this from a Boondocks cartoon….12 years ago: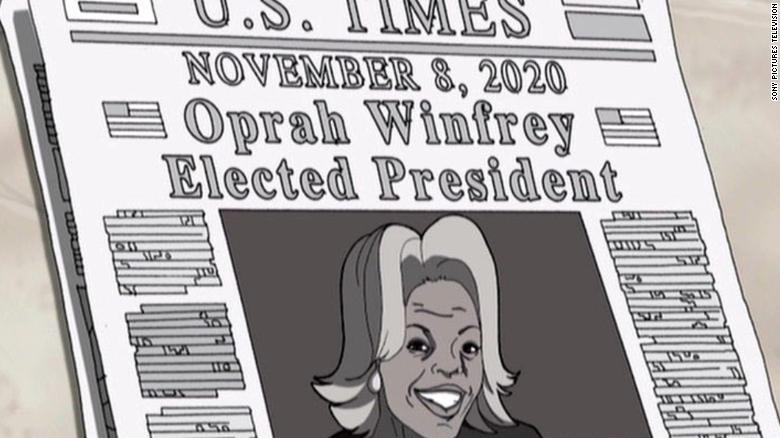 On Monday,  President Trump held a bipartisan meeting on immigration reform, which focused mainly on reforming our policy of allowing immigrants.  On Wednesday President Trump said he would not sign a bill to replace the DACA immigration program that does not include funding for a border wall. Yes…the wall, again. Man, I thought that was over. How about this idea: Let's just tell him the wall is built; he's never going to check. We will just tell him its big and manly and, by the way, Hillary fell off it onto the Mexico side at the ribbon cutting ceremony. Then we can move on.
I saw a link promising the world's largest picture frame. I was not prepared for this:
Yes, kiddos, that is a 450 foot high picture frame in Dubai (of course, Dubai),  offering up panoramic views of the skyline while framing views of iconic buildings such as the Burj Khalifa for visitors and residents all across the city. Visitors can now ascend the structure to its 280 foot long viewing bridge, which features a glass-floored walkways. A neon 'vortex' tunnel will then usher visitors into an interactive, augmented reality exhibition on the history and future of the city. Here is a short video with more information:
Moody Bible Institute announced Thursday that President J. Paul Nyquist and Chief Operating Officer Steve Mogck have resigned, while Provost Junias Venugopal has retired.  The school has lost enrollment and had to cut some programs ans staff. The board of trustees said the move was made because of "widespread concerns over the direction" of the school.
"They are godly, honorable men to whom we entrust to the Lord and offer our deep gratitude for their years of faithful service to Christ and to Moody. However, we are unanimous in our decision that it is time for a new season of leadership. I ask that you be in prayer for them and their families."
Also,  Richard Stearns has announced his plans to retire from World Vision at the end of 2018. He has served two decades as president of one of America's largest charities.
I read this week about a company that's working on technology that would let you make video calls with your pets. It's might be fun to video call my dog, but I imagine my cats would just decline the call, which would be depressing. Recall that last year another company promised that it would, in a few years, develop a pet translation device. So, conceivably you could combine the two techs, and have online conversation with Rover. Though, really, what is he going to say?
Chaplain Mike sent me this. I'm not sure if he's not trying to tell me something about my writing…
How to Avoid Mixing Your Metaphors

It's not rocket surgery.

First, get all your ducks on the same page.

After all, you can't make an omelet

Without breaking stride.

Be sure to watch what you write

with a fine-tuned comb.

Check and re-check until the cows turn blue.

Its as easy as falling off a piece of cake.

Don't worry about opening up

a whole hill of beans:

you can burn that bridge when you come to it,

if you follow where I'm coming from.

Concentrate! keep your door closed

And your enemies closer.

Finally, don't take the moral high horse:

if the metaphor fits, walk a mile in it.

Brian Bilston
In National Affairs, Rishabh Bhandari and Thomas Hopson argue that "identity politics" is a problem on the left and the right:
Identity politics is not just a problem of the left. It is a way of thinking that pervades our self-understanding. Our rancorous political conversation now consists of three competing theories of identity in America — three stories of how our differing backgrounds should shape our common political life. One of these (espoused by a significant swath of the left but increasingly co-opted by an influential minority on the right) treats politics as a continuous struggle across racial lines, and so conceives of coalitions on racial grounds. Another (advanced more commonly on the right in our time) insists that the principled distinction in our politics is not between racial groups but along the legal line of citizens versus non-citizens. Finally, the third theory of identity (espoused by some elites of both parties, and barely aware of itself as a theory of identity at all) views the other two schools of thought as pernicious and proposes its own form of identity defined by an ideal of cosmopolitan dignity.

Each of these theories, as practiced, is unstable. And each rejects the other two as un-American without really quite understanding them. It is this problem — our country's conceptual blind spot on identity — that drives so much of our present polarization.
Bono said in a recent interview that he thinks "music has gotten too girly." Well, you know what they say: Opinions are like U2 albums, even when you don't want them, Bono's gonna give 'em to you.
Sandrina Duniau, 30, of France, simply wanted to use the restroom. Unfortunately for Sandrina, she was vacationing in Australia at the time. Because blocking the door to the loo was this:
"It was right in the middle of the toilets blocking the entrance to the doorway and there was no way I was brave enough to go and bother it. I couldn't believe it and thought wow — only in Australia would something like this ever happen."
You have likely heard of the lawsuit James Damore filed against Google on Monday; it paints the company culture as extremely hostile to employees with unpopular opinions, especially conservative views, and discriminatory toward certain groups. What is fascinating (and worrisome) is not the details of the lawsuit, but the glimpse into the way the company and many of its employees view their world. Seeing details from diversity training sessions, accounts of alleged reverse discrimination, and screenshots of internal communications on company forums and message boards, we can learn a little about our tech over-lords. Here a few items from a list at The Federalist:
Plural beings: In a section claiming Google tries to "stifle" conservative parenting styles, the suit reads: "Google furnishes a large number of internal mailing lists catering to employees with alternative lifestyles, including furries, polygamy, transgenderism, and plurality, for the purpose of discussing sexual topics. The only lifestyle that seems to not be openly discussed on Google's internal forums is traditional heterosexual monogamy."

A footnote next to the word "plurality" adds: "For instance, an employee who sexually identifies as 'a yellow-scaled wingless dragonkin' and 'an expansive ornate building' presented a talk entitled 'Living as a Plural Being' at an internal company event."

The suit also includes a screenshot of the presentation on "living as a plural being" when the presenter is discussing how to address coworkers with multiple identities. Examples of "not okay" etiquette listed include "addressing any one headmate in particular; we're all listening!"

Our side must always dominate; your side must always accommodate. The suit claims Gudeman was fired in part because he took issue with the merits of a "derail document" written by Google manager Kim Burchett. "The thesis of this document is that on this one particular set of topics, the left-wing political frame of systematic bias, must always dominate, and the receiver must accept that frame, and its associated worldview, in their response," the suit claims. It does not provide the actual document.

Peer Bonuses. The suit includes a screenshot of one of the emailed "peer bonuses" awarded to those who opposed Damore. "Congratulations, Simone Wu!" the email begins. "You did something so amazing that Matthew Sachs awarded you a Peer Bonus. Here's what Matthew Sachs had to say: Simone has been doing a fantastic job speaking up for Googley values and promoting [diversity and inclusion] in the wretched hive of scum and villainy that is [Damore's memo] … Visit your award history page to see your certificate to print and proudly hang on your cube, wall, fridge, robot etc."

This is where my tolerance ends: with intolerance. "You can't support Donald Trump without also supporting his racism, misogyny, homophobia, and transphobia," a Googler wrote in a lengthy communication on Trump supporters. "Or even worse, if you vote for Donald Trump because of his economic policy or because you feel the other party is corrupt, then what you're saying is that economics is more important than the safety of your peers. This is where my tolerance ends: with intolerance."
Let's end with some photos of the week, courtesy of the Atlantic: