Hello, friends, and welcome to the weekend. Ready for some brunch?
This week I am going to unabashedly steal some jokes. Interspersed throughout our brunch, like sips of mimosa, will be some of the best late night humor. Let's start here.
Famed Watergate reporter Carl Bernstein told CNN yesterday that the Trump administration is trying to cover up its ties to Russia. Bernstein wouldn't identify his source, but did say [shows photo of Mitch McConnell] he goes by the name Loose Throat.

Secretary of State Rex Tillerson today said that Russia must respect its international commitments toward Ukraine — and then he winked so hard he accidentally swallowed his eyebrow.

The makers of the board game Monopoly have announced that they are dropping the thimble token in favor of new pieces in the shape of emojis and hashtags. Although, if you're trying to modernize Monopoly, maybe start with Oriental Avenue. We call it Asian-American Avenue now.

Seth Meyers
The Academy Awards are almost here. One category I love is special effects.  Technically, the Oscar for Best Visual Effects has only been around since 1963. Before that, there was a category for Best Special Effects, an award that was shared by the visual and sound effects teams. But going back to the beginning of the Academy of Motion Picture Arts and Sciences, effects were recognized as a crucial part of filmmaking and in 1927, Wings received a special honor for "Engineering Effects."This supercut pulls together all the past winners into a nice little reminder of how much has changed in the field, and how much visual effects changed the way movies are made.
Which is your favorite?
There is so much going on in the world right now. Not just in the world, there's a lot going on in the universe. For those of you who are looking to get off the planet, astronomers at the Carnegie Institution discovered more than 100 potential planets that may be habitable, which means we're one step closer to finding a planet with intelligent life.

It's exciting, especially for members of the scientific community — this is on the level of, like, a-woman-brushing-up-against-them-on-the-subway exciting.

This might not be the best time to make contact with aliens. They say, "Take us to your leader." What do we do at that time? "Our leader's a little busy on Twitter right now. How about we take you to Oprah? She's nice, you'll like her."

Jimmy Kimmel
Cspan polled a large group of historians to rank all the U. S. presidents. They have done this before, but this was the first time, of course, Barak Obama was included. Obviously, historians usually like to wait a while before making judgments like this, but for the moment they put Obama in as number 12. Surprised? Here is the top twenty. Any you strongly agree or disagree with?
1. Abraham Lincoln
2. George Washington
3. Franklin Delano Roosevelt
4. Teddy Roosevelt
5. Dwight Eisenhower
6. Harry Truman
7. Thomas Jefferson
8. John F. Kennedy
9. Ronald Reagan
10. Lyndon Johnson
11. Woodrow Wilson
12. Barack Obama
13. James Monroe
14. James Polk
15. Bill Clinton
16. William McKinley
17. James Madison
18. Andrew Jackson
19. John Adams
20. George H.W. Bush
At the box office this past weekend, "Lego Batman" beat out the sequel to "Fifty Shades of Grey." When asked for comment, the movie "Fifty Shades" said, "That's OK, I like being dominated."

Astronomers say they now know the approximate weight of the Milky Way. They found this out by adding 10 pounds to the Milky Way's weight on its Tinder profile.

Conan O'Brian
Yale University announced Saturday it will change the name of one of its twelve residential colleges, after years of controversy. Calhoun College will be now be named after  computer scientist Grace Murray Hopper, a mathematician who earned Yale degrees in the 1930s, invented a pioneering computer programming language and became a Navy rear admiral.
Of course the controversy isn't over Hopper, but erasing the name of Calhoun, who was a Senator, Vice-President, and ardent advocate of slavery (he called it not a necessary evil but a "positive good". Critics wonder if the university will re-name itself, since Elihu Yale was, in fact, a slave-trader.
What do you think, friends? Good move on Yale's part, or erasing history?
In his press conference, Trump claimed to have had the biggest electoral win since Reagan, and when a reporter pointed out that was false, Trump responded with — and I quote — "I've seen that information around." Around? He saw this information "around?" What, like it was tacked to a bulletin board next to guitar lessons and a picture of a lost cat?

He said Hillary Clinton's name 11 times during this press conference. Why is he still talking about Hillary Clinton? The election is over! Even lovesick teenage boys are like, "Move on, man. Let her go."

Conan O' Brien
For years now a powerful gene-editing tool called Crispr-Cas9 has allowed researchers to snip, insert and delete genetic material. It has led to plans for experimental treatments of adult patients with cancer, blindness and other conditions as early as this year. These types of genetic alterations are not inherited, of course.
This week, however, an influential science advisory group formed by the National Academy of Sciences and the National Academy of Medicine on Tuesday lent its support to a once-unthinkable proposition: the modification of human embryos to create genetic traits that can be passed down to future generations.
This type of human gene editing has long been seen as an ethical minefield. For one thing, we probably don't know enough about the humane genome to predict the future impact of present manipulations. Researchers also fear that the techniques used to prevent genetic diseases might also be used to enhance intelligence, for example, or to create people physically suited to particular tasks, like serving as soldiers. Further, they fear will be an inevitable push to engineer traits like strength, beauty and intelligence, perhaps eventually creating a dystopian social divide between those who can afford enhancements and those who cannot.
One concern driving the decision was the likelihood that the new technology would be adopted in countries like China, where some pioneering research on editing human embryos — without the intent to gestate them — has already occurred.
Your thoughts?
Those of you who have kids, or if you're a weirdo adult with a dollhouse, probably know there's a new American Girl Doll on the way. For the first time ever, this American Girl is a boy. His name is Logan Everett [shows doll photo]. I already don't like him. He looks like the football player who joins the drama club just to pick up chicks.

Logan sells for $115. I'm not paying $115 to buy my daughter a creepy little boyfriend for her crib.

There are about 40 different American Girl Dolls but only one boy. He's basically the Bachelor of the American Girl universe – they should have named him Nick.

Jimmy Kimmel
Lent, which begins next Wednesday, helps prepare us for Easter. Part of that preparation often includes fasting as a form of spiritual discipline—a practice that dates back to the early church. Lent traditionally lasts for 40 days (excluding Sundays), a time frame established after the Council of Nicea in 325 A.D.
Catholics (61%) remain most likely to observe Lent, according to a LifeWay survey. Protestants (20%) and those with evangelical beliefs (28%) are less likely.
How about you? Are you practicing Lent, and, if so, how?
I came across this interesting graphic and explanation about the different kinds of shame cultures around the world. How does this resonate with what you have observed?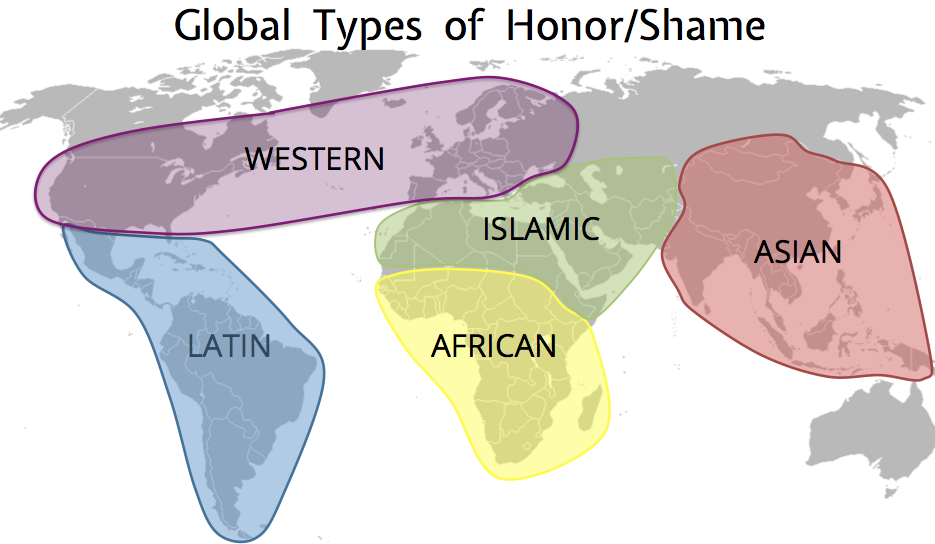 Explanation of the 5 Regions of Honor-Shame
Western shame tends to be more private and personal. It is an internal, psychological emotion often rooted in the fragmentation and alienation of modern life. Shame is not so much community scorn (though social media is bringing this aspect out more and more), but low self-esteem. Read more.
Latin notions of honor, at least for men, often depend upon being macho. Honor-shame are uniquely linked to race and economic class in South American. Read more. Recall also that the countries of southern Europe are Latin-based, so share some similarities.
Islamic culture highly esteems the Koran, Mohammed, the ummah, and even the Arabic language, as symbolic representations of honor. Muslims feel personally disrespected if any of these are disgraced. Middle Eastern cultures tend to compete aggressively for honor, so can feel justified using violence to defend their honor (i.e., honor killings, terrorism).
African cultures give a high value to ancestry and have a strong community orientation. Properly honoring the living dead is a crucial part of African religion/culture.
In Asian cultures, the notion of "face" is paramount. One can lose, keep, save, and gain "face." People's response to shameful situations tends to be more passive, because shaming someone else brings shame upon oneself, hence the extreme politeness.
Israel Prime Minister Benjamin Netanyahu said today that there is no greater supporter of the Jewish state than President Trump. Said Trump, "Absolutely, I love Florida. Fantastic Jewish state."

Defense officials are reporting that a Russian spy ship has been spotted patrolling 30 miles off the coast of the United States. Said one U.S. official [shows photo of Trump], "Oh, that's my Uber."

Taco Bell has announced plans to offer a $600 wedding service at its flagship restaurant in Las Vegas. And this is cool — the burritos are conveniently wrapped in divorce papers.

Seth Meyer
Online-dating site OkCupid is adding a feature for polyamorous people. The new setting allows users who are listed as "seeing someone," "married," or "in an open relationship" on the platform to link their profiles and search for other people to join their relationship.
According to the company's data, 24 percent of its users are "seriously interested" in group sex. Forty-two percent would consider dating someone already involved in an open or polyamorous relationship. Both numbers represent increases of 8 percentage points from five years ago. The number of people who say they are solely committed to monogamy, meanwhile, has fallen to a minority of all users, 44 percent, down from 56 percent in 2010.
The Church of England's crucial vote on gay marriage has been thrown into doubt after the Bishop of Coventry admitted he accidentally voted against the report and several others may have made the same mistake.The Right Reverend Dr Christopher Cocksworth apologised for the mistake last night, which he said was because of "a moment of distraction and some confusion over the voting process".
It has since emerged that some members have suggested that other clergy had made the same mistake.
The Grammys were incredible — you want to talk about bold performances, CeeLo Green came to the Grammys dressed head-to-toe in gold. He looks like he escaped from a secret room in Trump Tower.

Yesterday an official government tweet was posted for Black History Month, celebrating civil rights activist W.E.B. Du Bois. There were two problems with the tweet. One was Du Bois' name was spelled wrong — and the other problem was the tweet was posted by the Department of Education. Now, I know Republicans don't believe there should be a Department of Education but this seems like the wrong way to prove it.

But it gets worse: They tweeted an apology for their mistake. It says, "Our deepest apologizes." Well, apologizes accepted.

I don't know who at the Department of Education wrote this tweet, but whoever it is should have been held back a year. Or at least make them go back and repeat Black History Month.

James Corden
Liberty University is in the news again. And, again, it has nothing to do with Jesus. They are taking flak for speaker line-up for their men's conference in March.
So the speakers include a man famous for acting as a clueless redneck, a race-car driver, an accused rapist (Roethlisberger) and the leader of a ministry being sued for covering up sexual abuse of boys (White). Okay, then.
There were demonstrations across the country today to protest the president's immigration policy. Immigrants were encouraged to skip work today for what they called "a day without immigrants," or as Steve Bannon calls it, "a good start."

There were marches in Philadelphia and Austin, Washington. Here in L.A., with no immigrants — we have a lot of immigrants here in L.A. — people were forced to babysit their own children. Arnold Schwarzenegger had to impregnate a meter maid today. It was awful.

Jimmy Kimmel
Below are pictures of what is called the Aurland Lookout, in Norway. More pictures are here.
Wanna see a map of the hometown of every character in Homer's Iliad? Of course you do. Click on the map for a larger view, or go here for an expandable version.
We just learned from multiple intelligence sources that Trump aides were, quote, "in constant touch with senior Russian officials during the campaign." Constant Touch, by the way, is also Trump's Secret Service code name.

Trump held a press conference today because in the middle of all this insanity, Israeli Prime Minister Benjamin Netanyahu visited the White House. As a courtesy, Trump asked his staff to put a 24-hour hold on retweeting neo-Nazis. That's just good manners.

Stephen Colbert
Jazz pianist and vocalist Barbara Carroll died Sunday at age 92 after a career that spanned seven decades. She began recording in the late 1940s, when a female jazz musician was still considered quite a novelty, and continued to record until her latest CD, "Barbara Carroll Plays Birdland," was released last December. We conclude our brunch with this video of Carrol at the Algonquin Hotel, May 25, 2008. With bassist Jay Leonhart, she performs her signature closing song, "Old Friends" by Stephen Sondheim.