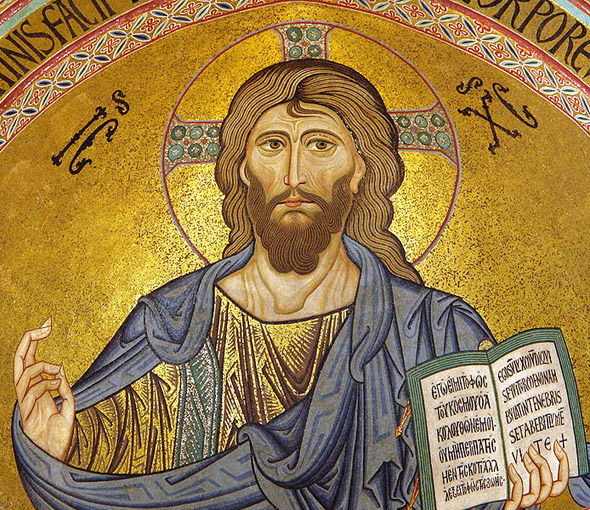 Today, Chaplain Mike continues our discussion on the Scriptures by setting forth this classic IM post from Michael (1/08) on a foundational issue with regard to the Bible: What is the "canon" of Scripture?
UPDATE: I will not re-run the post on the Lutheran view of the canon (which Michael references below) at this time. However, if you want to read Josh Strodbeck's post from Jan. 2008, go here.
After reading Mark Shea's By What Authority? and revisiting Craig Allert's A High View of Scripture? I started making some notes on my own ideas about the question of canonicity.
This post will be followed later by popular Internet Monk poster and famous Lutheran blogger Josh Strodtbeck, who will give us the Lutheran view of the canon. So this ought to be fun, interesting, and make the right people mad enough to call me an "invertebrate." (Love those flashes of TR rhetoric.)
As some of you know, discussions about authority, who is the true church, what franchise operation did Jesus found and where should we all shop really give me the hives. Inerrantists, some Calvinists, most recent evangelical converts to the RCC and the entire Church of Christ in western Kentucky are all into this. Still, you have to think about these things. So get ready to discover that I don't think the canon is as closed as most of you, and I am not nearly as afraid of tradition as some of you want me to be. The one thing I know is that on this bus, we're all fallible, and that makes the subject interesting.
See you in the comments.
I'm no expert on the subject of canon, and I need to spend more time studying the subject, but I get a fair amount of questions from students about the canon and canon-related issues. Without trying to write a polished essay, I have several ideas about the canon I'd like to cover.
We have to be very careful with the concept of canon, because there is clearly a tendency to practice considerable anachronism with the whole business. Most of the questions I've fielded about canonization assumed that what were talking about is the approval of a list of books by some official and authoritative body, which actually becomes another discussion entirely. If we can hold off debating what denomination is the "true church" we can get much further with this idea.
Scripture itself has no formal table of contents in any book. In fact, the form of the scripture as a bound single book necessitating a table of contents is a construct of ours and not a specific command of God. On the other hand, those of us with an appreciation for tradition need to consider whether any view of tradition results in a final and authoritative "list of books in the Bible" that is never open for further discussion. The idea of "canonical" books is never as neat, simple and final as Christians would like it to be. No amount of posturing, shouting, waving Bibles or citing votes will make canonicity simple. It is, and always will be, one of the most difficult of Christian beliefs.
Canonization as event makes for a nice chart or lecture, but reflection on the nature of the writings we have in front of us will remind us that we can't be talking about a particularly neat process, but one that is very organic and spread out. For example, consider a book like Jeremiah. We begin with Jeremiah himself and his sense of call. Then we move to his belief that God is speaking a particular message to him and through him. That message is written down, let's say by Baruch, who is also convinced that this is from God. All of this is a kind of "canon," in seed form.
Jeremiah's disciples read what is written and share it with others. It is copied, shared, recopied, sent to other communities and spread even more through the Jewish community. At every point, a decision is made both individually and corporately that "this is God's word written." This is canonization in process. There is no insurance that the inspiration of the writing will cause universal acceptance, but this is not required perfectly at every level for canonization to happen.
As Jeremiah's writing gains more and more acceptance within the community that believes God speaks through his prophets, his "scroll" is used in worship, reading and teaching, it will gain more recognition by the informal authority structure of Judaism at the time. The recognition of divine inspiration and purpose grows through experience, repetition and use.
This kind of canonization process is not the parallel of church councils or popes, but seems to be the consensus of rabbinical authorities in particularly influential communities. It is unlikely anyone can put a date on canonization as an "event." This consensus is reflected in the inclusion of Jeremiah in collections of inspired writings and the references to Jeremiah as "scripture" within that community. (Again, it is important to remember that this consensus is likely not unanimous, nor does it need to be for the writing of Jeremiah to be "scripture.")
For Christians, Jeremiah's canonical status comes from the acceptance and use of Jeremiah as scripture by Jesus and the Apostles. In the case of the book of Jeremiah, there are obvious examples in several places. This is not, however, true of all of the books in the "Old Testament" canon. Books such as Esther and Ecclesiastes do not have specific Apostolic attestation in the New Testament, but it appears that the canon used by Jesus and the Apostles was the canon of the Septuagint. While there may have still been canonical debate and disagreement among rabbinical schools, it is clear that the concept of canon extended to "Law, Prophets and Writings" as commonly- though perhaps not uniformly- understood by the Jewish community. This makes debate on the status of books not quoted in the New Testament- like Ecclesiastes- a bit of a moot point.
It is important, however, to note that the term "scripture" was not synonymous with "approved canon." It is apparent that Jewish writers could use the term "scripture" in a much broader sense than we would use the word "canon," and that books not included in canonical lists might be referred to as scripture. This seems to provide strong evidence that there are books- such as the Apocryphal books- that may have been quoted as "scripture" while not appearing universally on all Jewish lists of canon. In fact, it's clear that the Jewish canon was never as settled as the retelling of the canonical tale might sometimes imply. This suggests that the category of "beneficial, but not authoritative" should be applied to some writings, and that supplemental collections of non-canonical books and readings are appropriate.
In the matter of a New Testament canon, much the same kind of organic process of creation, use, collection and canonization occurs. Christianity, however, developed a more rigorous authority structure with more "official" status given to the idea of canon and to the importance of canonical inclusion and restriction. This seems to be for two primary reasons.
First, canonical pronouncements were a way for heretical teachers to garner power, as Marcion demonstrated with his abbreviated canon. This necessitated more canonical pronouncements on the part of early church leadership in order to prevent false teachers from defining the apostolic faith.
Secondly, a canonical consensus was needed for a confessional consensus. Christianity was a faith with a strong sense of "oneness," and while this did not eliminate diversity, it made diversity of some kinds more problematic. The witness of early Christian literature is of a diverse church that reaches for doctrinal unity through a continuation of apostolic authority in elders, bishops and councils. Christian history has proven that doctrinal disagreement often has implications for what we consider scripture.
Was the New Testament canonical debate an expression of an infallible church decision expressing God's will regarding "closure" of the canon? Or do canonical issues remain open? Consider the canonical status of Mark 16:9-20 as it applies to the continuation of spiritual gifts or the necessity of baptism for salvation. I do not consider these verses to be apostolic or to go back to Jesus, and this affects how I respond to the use of these passages. For me, there are still canonical questions in play.
Within particular church communions, the question of canon is largely inseparable from the question of church authority. This is not surprising, nor is it surprising that many who join particular denominations find the question of "who defined the canon?" to be persuasive. For those who reject the concept of human infallibility and who believe the process of canonization to be a combination of God using scripture as His own Word and humans recognizing the inspiration of God, the canon is, as R.C. Sproul said, "a fallible collection of infallible books."
Such language will make claims of an infallible canon produced by an infallible church authority all the more attractive for some, but those who want to approach the subject of canon honestly will, in my opinion, find Sproul's conclusion to be truthful and helpful. Those who must have an infallible settlement of the canon question will find one in several places, along with a tendency toward an uncritical acceptance of tradition being in an extra-Biblical, superior relationship to scripture.
It is important to remember that the process of canonization exists at all the levels described earlier in this post, and continues in some ways even today. The pronouncement of one church that "Tobit" is canonical does not make it so within the experience and communities of believers that encounter the book. It is far more likely that the broader idea of "scripture" is functioning at the same time as the narrower concept of "canon."
It is obvious to me that the canonical discussion is never entirely "locked down" and over in the church as a whole. The discovery of other Gospels and other first century Christian literature will continue to make the canon a subject of debate at every level. The discovery of another letter of Paul would quickly demonstrate that the votes of councils or denominations do not end the discussion.
If our approach to canon is focused on the canon as affirmed and formed by Jesus and the Apostles, we will find that the canonical discussions that were going on in the early church are still alive. Should a text in Hebrews carry as much weight as a text in the Gospel of John or Romans? Should extra-canonical citations in Jude bring about the inclusion of those books in the categories of "scripture" or "canon?" Was Luther's criticism of the Epistle of James out of line, or are such discussions still valid? Should Revelation and II Peter be in the canon, given the doubts about them in the early church? Should a letter like I Clement or a teaching like The Didache be considerd "scripture" in some sense? If not, why not? If the author of the Fourth Gospel was Lazarus, and not the apostle John, would this affect its status in the canon? Are sayings of Jesus from outside the current four Gospels of any value to Christianity? Can Protestants still cite the witness of the early church in the construction of the canon without admitting the Roman Catholic view of infallible authority? Does the RC view of canon as stated at Trent stop the RC Christian from adjusting his/her view of the content of holy scripture based on textual discoveries regarding passages that were accepted at the time of the council, but are not in the Greek text now? These are important questions regarding the canon that are still in play today.
The Lutheran approach to the canon has been more of a "middle way," suggesting that we should be more conservative in regard to issues of apostolic authorship in particular. Recent evangelical discussion of the canon has suggested that a recognition of the difference between the use of the term "scripture" and authoritative pronouncements of "canon" may be important for Protestants to accept. Anglicans read books in worship that most evangelical Protestants exclude, but do so from the standpoint of values other than strict canonicity.
Thoughtful consideration of the issue of canon will lead the post-evangelical to see the effect the printed Bible has on the concept of scripture. To be able to hold up A BOOK and say "this is the word of God" is, from the standpoint of what God has actually inspired, misleading. God's revelation was not of "the Bible" as a book, but of the writing that the Christian community considers to be Holy Scripture in its various forms. The continuing canonical conversations are not a witness against God speaking his Word to his people, but an expression of the conviction that God has spoken and works through his Word.
Hard, clear and authoritatively pronounced lines drawn between what is the "Bible" and what is not are very attractive to a person seeking certainty in regard to "what is the right church and the right doctrine." A more open, dynamic idea of canonicity- that includes the fallibility of human canon-makers while emphasizing connection to Jesus and the Apostles- is far less attractive by way of certainty. If we are to constantly see the scriptures as being given to us by Jesus and through his Apostles, then a middle way is the right way to avoid the ditches of narrow authoritarianism and individualistic chaos.
Questions:
1. So do you believe in an open canon?
I believe the word canon implies a long process that is not controlled by any vote or event, but that goes on dynamically as God's people encounter God's Words in various ways. I believe that the process of canonization is not entirely closed, but for all practical purposes it is. Even though questions, issues and future events remain, the current consensus within the major communions is strong.
2. Could something produced by a modern prophet be scripture?
No. It isn't connected to Jesus and it isn't Apostolic.
3. So we don't know what God's Word is?
First, you're probably assuming that God's Word is a single book. That's seems to me to be an artifact of recent technology. God's Word comes to his people in the writings that faithfully attest to Jesus Christ and the Gospel.
As to your specific question, I don't entirely know the boundaries of what may be scripture. There are canonical questions that remain and I do not believe pronouncements at various times in Christian history closed the door on the boundaries of what Christian may consider to be scripture.
But certainly the scriptures that all Christians agree on provide more than sufficient attestation to the truth of Jesus and the Gospel. There is no central Christian doctrine at stake in any possible canonical discussion.
God's Word is Jesus Christ. Beyond that, proceed with caution. God knows what he has given as his inspired Word, and it does what he set it into history to do.
4. What about the Gnostic Gospels or the Gospel of Thomas? Don't these threaten our view of Jesus?
The Gnostic gospels clearly fail the test of canonization, and the presence of some authentic material would only make these writings of "interest." They could never be Christian scripture. The Gospel of Thomas is the most interesting of these writings, but only a few marginal Christian groups would even attempt to make a case for some kind of canonical inclusion.
Ehrman's suggestion that the scriptures of the diverse communities of the first century provide a very different picture of Christianity than what many Church historians want us to see seems like a valid point. But to suggest that the "Nicene" faith is overthrown by these writings is simply untrue. These Gospels are too late, unconnected to Jesus and unconvincing in any claims of Apostolicity.
5. Does the Protestant view of the canon depend on the Roman Catholic Church?
No, it doesn't.
Protestants and Catholics disagree on whether the actions of the early church substantiate all the claims and dogmas of today's Roman Catholic Church. Protestants need not reject the early church, the value or place of tradition, or the significance of actions by the church in order to reject the claim of infallibility. Protestants can have a canon by its affirmation by Jesus and the criteria of Apostolicity, though as I said in the post, the best we can have is a "fallible list of infallible books."
Certainly, I believe a more "catholic" view of the why and what of scripture is appropriate. Scripture wasn't canonized by the Southern Baptist convention, but by the church before it was sundered by division. Athanasius and the early church councils belong to all Christians. These are important milestones in how Protestants view scripture today. These are "windows" into some of the history of some of God's people. But if God himself were writing the history of his people, I am not sure we would be reading the history of Roman Catholic canonization alone. I tend to believe the process in very organic, broad and diverse in ways no one denomination can ever completely see.
COMMENTS NOW CLOSED.