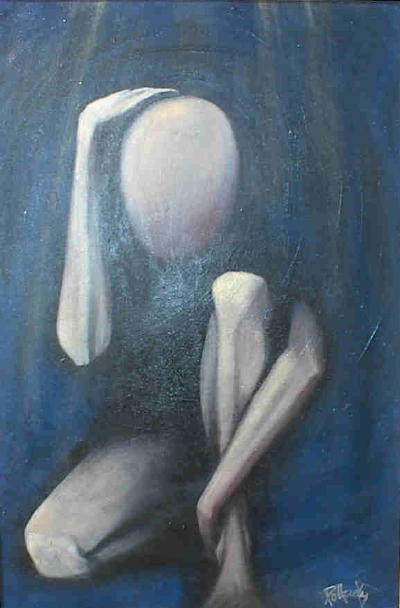 I heard it again in church today. Last week, it was in our church bulletin, used to announce a youth mission project. It is the poster passage for all manner of missions and social justice ministries. How can you go wrong with a text that epitomized Mother Teresa, the very Scripture by which she herself defined her own ministry?
You know it. The last day. The final judgment. The Son of Man seated on his throne in judgment. All nations gathered before him. Sheep and goats. Left hand, right hand. Those who inherit the kingdom. Those who hear the most horrifying words, "Depart from me into the eternal fire prepared for the devil and his angels."
What makes the difference?
"…for I was hungry and you gave me food, I was thirsty and you gave me something to drink, I was a stranger and you welcomed me, I was naked and you gave me clothing, I was sick and you took care of me, I was in prison and you visited me."
When did we do this?
"Truly I tell you, just as you did it to one of the least of these who are members of my family, you did it to me." (Matthew 25:35-40)
And so, as the pastor exhorted us this morning, Christians must have a "least of these" mindset. Like Jesus, who came to proclaim good news to the poor, release to prisoners, recovery of sight to the blind, and freedom for the oppressed (Luke 4:18), even so his followers must humble themselves to reach out to the neediest of our neighbors and serve them with the Savior's love.
This passage is so stirring, so stimulating to the imagination, so sobering in its implications, that one cannot help but pause to take stock of one's own life in its light.
Except…
Except that I am convinced we have it all wrong.
I assert that, when we look beneath the common interpretation of Matthew 25:31-46, we find a classic case of assuming what the Bible says, just because we have been told this is what it means, over and over again. Because of an ingrained traditional reading, we have become inoculated against reading the text as it is.
What is Jesus saying in Matthew 25:31-46?
Matthew has placed this passage at the end of Jesus' "Olivet Discourse" about things to come until the "end of the age" (Matthew 24-25). The "sheep and goats" story is the last of three parables that Matthew attaches to the end of this "sermon." These parables form the "conclusion" to Jesus' message and drive home some practical messages he wants the disciples to glean from his teaching.
It is important to read this in the context of the entire Gospel and where it is going. Christ is about to leave his disciples' presence, and in the interim between his ascension and return, he will leave them with his "Great Commission" in Matthew 28:18-20. This passage shares some things in common with the parable of the sheep and goats.
And Jesus came and said to them, "All authority in heaven and on earth has been given to me. Go therefore and make disciples of all nations, baptizing them in the name of the Father and of the Son and of the Holy Spirit, and teaching them to obey everything that I have commanded you. And remember, I am with you always, to the end of the age."
From Jesus' ascension to the "end of the age," Jesus' disciples are commanded to go to the "nations," making disciples and receiving them into the community of faith.
Another passage that provides insight into Matt. 25 is Matthew 10, which gives a preview of the disciples' mission. Here the author shows Jesus sending the disciples on an interim outreach to "the lost sheep of Israel." In addition to instructing them on where they are to go and what they are to do, the majority of Jesus' mission discourse is devoted to describing the various reactions they should expect, as well as the reward and punishments that will be doled out to those who either welcome or reject their ministry.
For some: "it will be more tolerable for the land of Sodom and Gomorrah on the day of judgment than for that town."

For others: "Whoever welcomes you welcomes me, and whoever welcomes me welcomes the one who sent me. Whoever welcomes a prophet in the name of a prophet will receive a prophet's reward; and whoever welcomes a righteous person in the name of a righteous person will receive the reward of the righteous; and whoever gives even a cup of cold water to one of these little ones in the name of a disciple, truly I tell you, none of these will lose their reward."
Most Bible scholars understand the teachings of this passage to go beyond the immediate context of the specific events in Jesus' ministry to which they are attached. They are meant to be read by the church as instructions for our mission today as well.
With this context from Matthew in mind, let's go back and read Matthew 25:31-46.
Who is being called before the Son of Man on his throne?

The nations.

On what basis does he evaluate them?

On how they treated him. But not on how they treated him personally. Rather, on how they treated, "the least of these who are members of my family" (lit. my brothers). Jesus said (as he did in ch.10) that, as you treated them, so you treated me.


The "least of these" are Jesus' family members who have gone into the world between his ascension and the end of the age to take his good news and love to the nations.
As Paul said, the "least of these" are those who are "always carrying in the body the death of Jesus, so that the life of Jesus may also be made visible in our bodies. For while we live, we are always being given up to death for Jesus' sake, so that the life of Jesus may be made visible in our mortal flesh. So death is at work in us, but life in you." (2Cor 4:10-12)
If I am a believer in Jesus, a member of his family, I am one of the "least of these." Same for you. The nations will be judged on the basis of how they receive us and the message we bring.
Some might say that reading Matthew 25 like this will take away our motivation to serve the poor and needy. In fact, I find this to be a much more challenging and convicting reading of this passage than the traditional one. Far from removing our motivation to love and serve others, it challenges us to find our identity in Jesus alone and to be willing to sacrifice anything and everything else in order to be his people in the world.
And ultimately, this passage assures us that Jesus has our back in the end. He is not unaware of how his people (the least of these) are being treated in the world, and one day there will be a just accounting from all nations.