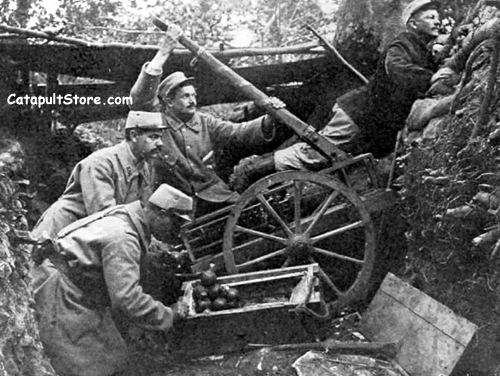 By Chaplain Mike
The troops have been mustered.
And folks, it ain't gonna be pretty.
So, this week, in the "where angels fear to tread" category, we're going to gear up and go back to the front lines of the Creation Wars.
As you know, I have recommended the site BioLogos and have posted materials from their blog. I truly appreciate the mission of BioLogos and the spirit with which they pursue that mission.
The BioLogos Foundation is a group of Christians, many of whom are professional scientists, biblical scholars, philosophers, theologians, pastors, and educators, who are concerned about the long history of disharmony between the findings of science and large sectors of the Christian faith. We believe that the Bible is the inspired Word of God. We also believe that evolution, properly understood, best describes God's work of creation. Founded by Dr. Francis Collins, BioLogos addresses the escalating culture war between science and faith, promoting dialog and exploring the harmony between the two. We are committed to helping the church – and students, in particular – develop worldviews that embrace both of these complex belief structures, and that allow science and faith to co-exist peacefully.
Now, whether or not you accept their statement, "We also believe that evolution, properly understood, best describes God's work of creation," it is my strong contention that all Christians ought to welcome the presence and contribution of a group like BioLogos.
For they are seeking another way, beyond the failed culture war strategies employed by fundamentalists on both ends of the spectrum—
On the one hand Christian fundamentalists who insist on a Young Earth Creationist interpretation, based on a narrow definition of Biblical inerrancy and a literalist approach to reading the creation accounts in Scripture;
And on the other hand atheistic fundamentalists for whom science is their religion, materialistic naturalism is their philosophy, and faith-based approaches represent the endeavors of fools still under the power of superstition rather than empirical evidence.
BioLogos is encouraging conversation—rigorous yet respectful conversation about science and Biblical religion, so that they might learn to co-exist without the continual retreat to the trenches that has too often characterized these two "sides" in American culture. I'm all for that.
Do Christians really want to be the ones who deny, not merely the scientific model of biological evolution, but whole swaths of accepted scientific findings in geology, astronomy, physics, and many other fields based on a passage in the Bible that was never intended to address such matters?
Unfortunately, as you might expect, certain outspoken members of the Christian community are stepping up to do just that, particularly in conservative Reformed circles and those related to them.
Albert Mohler gave a talk at the National Ligonier Conference last week on the age of the earth. Tim Challies summarizes Mohler's approach:
He began by reading Genesis 1 and, having done so, affirmed that a straightforward reading of the text tells us of 24-hour days, 6 real days of creation and one real day of rest. And, indeed, this was the overwhelming, untroubled consensus of the church until the 19th century.
To take any other view, in Mohler's opinion, threatens the integrity of Scripture and pushes down a domino that ultimately takes down the entire Biblical Christian faith.
Pastor John MacArthur, Jr. has also been involved in this fray. MacArthur is the teaching pastor at Grace Community Church in Sun Valley, California, and featured speaker on the Grace to You radio broadcast. MacArthur, strictly speaking, is not Reformed in a traditional sense. He has a generally Calvinistic approach to doctrine, is baptistic and non-denominational, with a strong emphasis on Biblical elders leading the church. MacArthur is probably most well-known as an outspoken advocate of what has (unfortunately) come to be known as "Lordship Salvation." He is also an outspoken dispensationalist (a fact which gives me little confidence in some of his approaches to Scripture).
In recent days, the Grace to You blog as well as Pyromaniacs, the blog of Grace to You Executive Director Phil Johnson have been weighing in hot and heavy.
And like I said, it ain't pretty.
Listen to some of what Phil Johnson has been writing:
BioLogos is a dangerous "trojan horse."
"Old-earthers" like to fudge on the incontrovertible teachings of Genesis.
BioLogos clearly does not take Scripture seriously.
BioLogos' contributors consistently give preference to modern ideology over Biblical revelation.
"Biblical orthodoxy" has no clear meaning in the BioLogos lexicon. In all candor, it seems as if sound doctrine is simply not matter of major concern for most BioLogos contributors.
If BioLogos is willing to throw away so much at the very foundations of our faith and at the very beginning of God's revelation, I can't imagine why they would want to keep up the pretense of being Christians at all.
It's painfully obvious that theology is very low on BioLogos's list of priorities.
The blend of scientific skepticism and moral piety being peddled over at BioLogos isn't authentic Christianity.
The worldview BioLogos promotes is a challenge to—and by no means an affirmation of—the authentic, biblical, and historic Christian faith.
It is unreasonable to extend to BioLogos the right hand of Christian fellowship.
And, Johnson's coup d'grâce: "Looks like it's the beginning of the end of The BioLogos Foundation, at least as the distinctively Christian organization it claims to be."
Well. I guess there won't be any "conversation" with Mr. Johnson or the folks at Grace to You, will there?
For those with this kind of unyielding fundamentalist commitment there is no conversation. For fundamentalists, the "clear teaching" of God's Word ends all conversation rather than furthering it.
Never mind that St. Augustine disagreed and took a distinctly non-literal approach to Genesis.
Never mind that John Calvin said Moses was saying something different than the astronomers of Calvin's own day, and that both should be considered "right" when you think about the respective purposes of their work.
Never mind that a number of prominent theologians over church history, including many leading men of God in the Reformed tradition, have thoughtfully embraced forms of theistic evolution and accepted evidence for an old universe while at the same time affirming the historic creeds and teachings of the Church.
Never mind that the politically-charged conservative evangelicalism of America (never known for its intellectual depth) seems to be one of the few places in the world that these issues are on the front burner.
Never mind that huge segments of Christendom (dare I say the Roman Catholic Church?) have found and continue to find ways to work through issues like this. Fundamentalist approaches of all types may sell books and make a temporary splash. However, despite the shrill shrieks they emit to get people's attention, IMO they should become increasingly marginalized in favor of more thoughtful and gracious approaches that recognize the validity of studying both God's Word and God's world with rigor, and having the humility to listen and have conversations with others.
Of course, MacArthur, Johnson, and their ilk will claim this is a sure sign of the church's apostasy. Please.
Further, I hope that conflicts like this don't cause fine projects like BioLogos to lose sight of their mission and think they must take up arms to defend themselves. There were, unfortunately, some signs of that this week. Please don't give in to that temptation! As one of my favorite Irish theologians, David Gray, says:
We've been beatin' on it 'til we're black and blue
Just what good exactly is it gonna do?

"Harder"
I am no expert on questions of science. You won't find me holding forth on these matters from a scientific perspective, because, well…because if I did you'd laugh at me and go read some other blog. At this point in my life and study, it is enough for me that many fine, thoughtful, committed Christians believe we don't have to view this whole subject as a site for trench warfare.
We can talk.
We can trust that a majority of people who study and practice science are people of good faith and are not out to destroy Christianity and Western Civilization.
We can also trust that most people in Christian scholarship, leadership, and in the churches are people of good faith, and would be willing to have intelligent conversations about these matters rather than live in a trench and spend their time tossing grenades and ducking the ones coming their way.
Furthermore, we are probably right to posit that most people in our communities frankly don't  give a damn about these issues. When they look at armies mustering, demagogues blustering, and cluster bombs busting the ground, they run and hide, angry that they are caught in no-man's land, getting wounded and killed—collateral damage from the church neglecting the Gospel in favor of fighting culture wars.
Isn't it just as reasonable to take a position like this?—
God is so much bigger and mysterious than we can ever understand (in terms of creation, see the end of the Book of Job), that, at least at this point, it is hard for us to imagine how some things fit together. There is a lot more studying, exploring, discovering, and talking to do.

For example, can anyone explain how a God of providence who is involved in his creation might possibly use the seeming "chance" mechanisms of evolution? Do we really know the details about whether that is possible or impossible? Can we really give a final yea or nay at this point?

But don't stop there. There are whole realms of science besides the subject of biological evolution that challenge our common, accepted understandings of God and the universe. Are Christians going to be the ones to say, "Throw it all out! The whole enterprise is wrong!"

Or can we somehow come to a point of withholding final judgment and simultaneously hold as at least possible multiple ideas which seem at present to be incompatible with one another?

Can we commit to keep studying? To keep talking? To hold our convictions with a modicum of humility? To keep showing respect for possibilities we may not at present fathom? To keep the main thing in our Christian faith the main thing—that "We believe in God the Father Almighty, Creator of heaven and earth; And in Jesus Christ, His only Son, our Lord…."?